Below are settings for the Electro-Harmonix Deluxe Big Muff that replicate some of the classic Big Muffs of the past, as well as a few of the popular Big Muff clones. I will be posting settings for several of the Russian Sovtek, Ram's Head and Triangle Big Muffs. The DBM can replicate a few of these exactly, and others 80-90% the same
Below is a template to record your DBM settings. Feel free to share your favorites (nasnandos at kitrae.net). Click the image below for a .pdf version, or click here for a .jpg version.

---
EHX BIG MUFF REISSUES - EHX has released several nano-sized reissues of specific circuits from their past Big Muff versions. Here are settings that closely match those. I used my favorite settings on the EHX nano pedals, then found similar settings on the DBM. The amps I used for comparison were a Reeves Custom 50, Hiwatt DR103, and a Fender 59 Bassman RI amp.
---
SOVTEK RUSSIAN BIG MUFFS - The Sovtek tones vary a lot, even among examples with the exact same circuit, so I just took a typical one from my collection for each type, set them all the same, then found the best match on the DBM.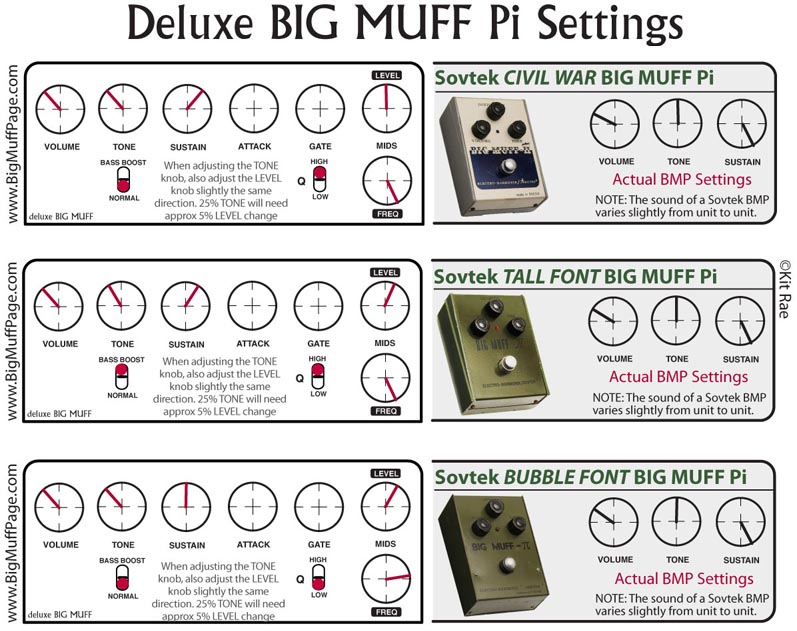 ---
1973 VIOLET BIG MUFF PI - These are settings for a Gilmourish tone on a vintage violet Ram's Head Big Muff, the second version.

---
CORNISH P-1 - Below are some settings to try for a Cornish P-1 sound. The P-1 has a classic mid 1970's Ram's Head Big Muff tone, with a slightly boosted midrange, and tight and low end. The bottom two settings get close to the same midrange and low end as the P-1, but they are a bit off somewhere in the middle. Hard to describe, but they sound slightly thicker and chunkier in the middle than the real P-1, but close. The top setting does not have exactly the same matching mid range or low end, but it sounds similar to the P-1 and has more of the same 'feel' I get when playing it than the other two settings. Thumb and pick harmonics also come out more naturally like the P-1 with that setting.
---
SMASHING PUMPKINS - Below are settings to replicate the core guitar tone hear on Siamese Dream. I found the best SD tone on my op-amp V4 Big Muff played with a Strat through my clean Reeves Custom 50 (Hiwatt), then matched it on the DMB.