OTHER KNIFE DESIGNS BY KIT RAE
Outside of the Kit Rae Fantasy Art brand, Kit has designed numerous knives, weapons, and tools for various companies, mostly in the tactical and sporting catgories, and he supervised the replicas for many licensed film and video game weapons. After constant inquiries about these items we started sort of a scrapbook list. The Brands Kit has designed for include Honshu, M48 Kommando, United Cutlery, Combat Commander, Black Ronin, Tailwind, Rigid Knives, Colt, Harley-Davidson, Stanley, Remington, Gil Hibben, among others, going way back early in his career. It is by no means complete, but most of his designs are listed, to the best of our memories. The list goes back to approximately 1985 when Kit first started in the knife business. Click on a Brand to go to that section.
BACK TO OTHER KNIVES MENU PAGE
GIL HIBBEN CUSTOM DESIGN SERIES - Page 2
UC898 Dragon Lord (1996) – This was not designed as a Hibben knife, but as a Kit Rae annual knife. We had no new design for the next Hibben annual knife, so after the gang at United saw my initial design ideas for this they talked me into using it as a Hibben knife. I really just wanted to do my own thing with this one and designed what I wanted to see in my line, with a vague dragon theme. I did most of the design work during an orient trip to visit our factories, which I did two or three times a year. I had an idea to embed a dragon oranment in the grip, similar to a Samurai sword menuki. I eventually moved that to the blade. Out of all of the fantasy knives I have designed this is one of my all time favorites, and it was a huge seller. I really regret that my name is not on it, but the insatiable thirst of the UC Hibben collector had to be fed. This one was also popular with the Star Trek Klingon crowd, and appeared in several television shows and films. Many Hibben Custom Design series collectors I know tell me this is one of their favorites in the line. I gave my parents one of the original prototypes and I think this is the only one of my knives they actually have on display in their home.
Shown above - Some of my early design concepts for the Dragon Lord and blade ornament ideas.
Shown above - My final design and control drawings. The long lower blade guard was going to be a problem manufacturing as one piece with the blade, so to break it up I made it two pieces, as if it ran through the hand guard. I struggled with what to make the two grip parts between the metal hilts out of. I resisted doing anything sculptural with the grips because that did not fit the look of a Hibben knife in my mind, and it would look too much like something from my own line. United parter/owner Kevin Pipes made the decision for me by saying if it is a dragon knife with dragons on the blade, it should have scales on the grips, so that's what I did.
Shown above - My final design color art, and the wood wood prototype model. These wood models were used to get an idea of how the knife feels in the hand, how all the parts fit together, and in some case were pantographed as patterns to cut the copper electrodes that would be used to cut the actual casting and injection tooling. Primitive, but there was not a lot of 3D CAD or computerized milling being done in the production knife industry in Taiwan (where all the knife factories were located) in those days.
Shown above - I had previously airbrushed some dragon artwork at home, so I pulled that out and modified it for the Hibben packaging logo, and hand drew the Dragon Lord logo font. I again teamed with photographr John Stewart to art direct and build props for the catalog cover photo shoot. I don't think I was ever asked or paid to do this. Photgraphy and prop making was just a hobby, so I spent many weekends doing this stuff. I still have those stalagmites and stalagtites I made in a box somewhere.
Shown above - For some reason, the lower blade guard was illegal is some European countries, even though it had no actual edge, so I had to design a version with a short stubby blade guard to get around the laws. We also did a gold plated limited edition with a nice wood display case made by Wood Gallery. I don't recall who came up with the idea to make gold plated versions, probably Kevin Pipes, but I thought it was ugly and looked like something from the Shop at Home television network. However, collectors loved them and the gold versions sold out nearly every year.
UPDATE: The standard version of the Dragon Lord was reissued in 2010.
Shown above - A modified version of the Dragon Lord appeared in the Spawn movie (1997) and the Spawn toy graveyard play set even had a little plastic Dragon Lord knife. Several very good close-ups of the Dragon Lord also appeared in an episode of The Crow: Stairway to Heaven (1998). The knife was also photographed in knife magazine pictorials and was featured on the cover of several knife magazines. It was very camera friendly, looking good from almost any angle.
UC986 Hornet (1997) – This one was based a custom Gil Hibben/Paul Ehlers collaboration (similar to the one shwon above right). I redesigned the hilt and modified the blades (above left) to simplify some things for production, and make it work for a short sword version we had planned for later, but it still retains some of Paul's fantastic design. After getting a final design locked, I would often paint the knives in a photo realistic rendering (examples shown below). Those would be given to the United factory for reference, along with my CAD drawings. The art was also later used in the packaging graphic design.
UC1099 Hornet short sword – Same as the UC986 above but I designed a short sword blade for it. Originally this was just going to be for the gold version, but it was used as a Hibben 40th anniversary knife.
UC1169 Jackal (1999) – I pushed for using one one Gil's designs for the 1998 annual Hibben knife, the Odyssey. It looked good, but sales were slow on that one for some reason (I loved it), so I was drafted back into designing the follow up for 1999. This was another design meant for my line but it looked like it fit in with Gil's so we used it there. One of my favorites.
The Jackal was use extensively as Faith's knife in Joss Whedon's addictive Buffy the Vampire Slayer television show. My lead drafsman at United, Adam Hall, kept telling me I shoudl be watching this show, since they were using my knives often. I started watching and got hooked when I saw the Jackal in one episode. It was a key prop in a story arc that lasted two seasons.
The Jackal was later used in Star Trek: Nemesis film in 2002, wielded by the character Shinzon. I was a huge Star Trek fan, so this was a great thrill to see my knife appearing on posters and tv ads for the film (also frustrating because my name was not on it). It featured heavily in the movie poster and marketing campaign. While I regret not having my name on, if it were not for Gil's association with Paramount it probably would have never been used in Star Trek. In the toy realm, the knife came as an accessory with the Faith limited edition Buffy the Vampire Slayer action figure and the Shinzon action figure from Nemesis. I think this was the fifth time one of my designs had been used as an action figure accessory!
GH2000 Griffyn (2000) – This one originated with a page of sketches I did for what would eventually become the UC Steel Apocalypse series. I really tried to make something that looked like a real Hibben custom knife this time, with multiple blades, and also keep it from looking like my other fantasy design for my own brand and United. We pushed the envelope for what could be done with production knife here. Not an easy one to make, and an interesting design, but not one of my favorites.
GH2009, GH2010 Scorpion (2001) – Another one designed for my line, but again, we needed a new Hibben knife and it fit the look so it was used there instead. Gil made a custom version of this one at one point and it was featured in Knives Illustrated magazine, erroneously credited as a Paul Ehlers' design! That stung a bit as I worked my ass off on this design to get it right.
GH2014, GH2015 Tigershark (2002) – I worked for about a month trying to come up with the 2002 design and just could not get anything that I liked enough to show to Gil, then at the last minute I came up with this. It actually all came together in about five minutes. Sometimes pressure brings out the best. Gil did not really have much design involvement on anything since the Warbirds, but this time he asked for a few changes to the back of the main blade blade and side blades, which did improve the design. Otherwise the finished knife is exactly what I sketched out in that five minutes. A really beautiful knife, and one photos don't do justice to. You really have to pick it up in your hand to appreciate it. It was also another one that pushed the production envelope as far as it could go. It was probably the most difficult one we ever produced. Our tool makers and factory really struggled to get it made right, but in the end we pulled it off.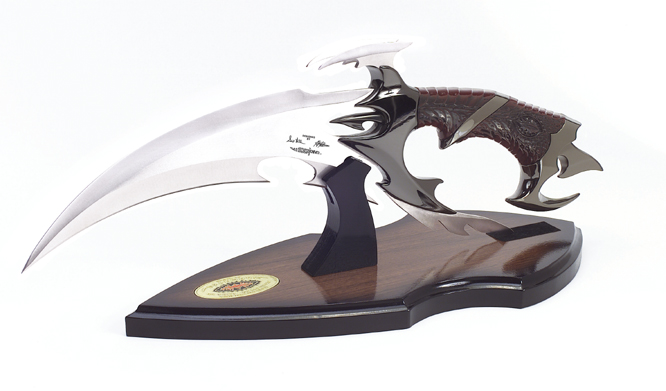 GH2025 Eye of Drakonus (2003) – It was getting harder and harder to come up with something for Gil's line that did not look like something from my KR line, and too time consuming. I had been questioned by collectors and dealers many times in the previous years about who was the real designer because it was becoming obvious that my designs for UC, KR, and Hibben all had a certain "look". I remember overhearing two collectors talking at a Blade show, one telling the other that Gil Hibben actually designed all of the Kit Rae knives, so it was getting to be a bitter pill to swallow every year, but it was a hole I dug for myself. I agreed to do one more, and someone at United suggested that this time we do a real collaboration with shared input from Gil and I, and use both of our names on the knife. I designed about six different knives and sent them to Gil. He picked out his favorite bits and we went back and forth by fax modifying the design to this final version. The Drakonus actually has a lot of Gil's design ideas in it, a true collaboration.
My own knife and sword line was getting to be very big and time consuming. When it came time to design the 2004 Hibben annual knife it was suggested (not by Gil) that I use my new Archeros knife design for Gil's 2004 knife, since it had the look that fit. I felt it was time to end it, so I resisted and kept that one for my own line. I'm sure some collectors were puzzled when they first saw Archeros, as it looks like it fits into the UC Hibben line, and the 2004 Hibben Centurion, which was Gil's design, had a completely different look than the previous Hibben annual knives produced by United. I had been designing what I thought the Hibben "look" was supposed to be for fifteen years, so it became permanent part of the way I design fantasy knives, but I think I had run out of ideas to fit into that look and needed a break. Archeros was really the last knife of that style I ever designed. It was a fun I fifteen years though! Even though I do very little design work for the Hibben line anymore, I do continue to work with Gil and United in helping to get his products made, mostly in the engineering, CAD, and product development.
HIBBEN FUNCTIONAL KNIFE DESIGNS
Below are a few of the Hibben non-fantasy knives made by United that I was involved in designing.
UC866 Pro Thrower Axe - Gil designed the original axe and I made some shape changes to make it match up with the Pro Throwers that were being developed at the same time, although functionally it remained as Gil had designed.
UC945 Pro Folder (1997) – I took the shape of Gil's Pro Thrower knife and made a folder version for Gil's line. It was intended to be a folding throwing knife in the beginning, but we could not work the issue of wear and stress on the blade pivot pin.
UC946, UC947, UC948, UC949 Cord Grip Throwers (1996) – United wanted another thrower for Gil's successful thrower line, and cord wrapped knives were hot. I was also a knife thrower and had designed several throwers for United and my line. I reworked one of my unmade designs to fit in with Gil's classic thrower look. Gil made some prototypes and revised the design. The final product follows his prototype very closely.
GH2012 Series Folders (bottom knife in photo-2001) – We wanted to try a pocket clip folding knife for the Hibben line so I took a folder I had designed for UC and reworked the handle. I restyled the blade after one of Gil's fixed blade knives and the shaped the handle a bit like his pro thrower profile. It was one of the most well made factory folders on the market at the time, but unfortunately it did not sell very well as people did not associate Gil with folding knives. EDIT: This design made a brief comback in 2009 as an assisted opening folder under Gil's line.
GH2013 Generation II Pro Thrower Axe (2002) – The UC866 throwing axe was very successful but expensive. United wanted a smaller, lower cost follow up, so I designed this ugly little double blade axe.