TYPES OF SPEAKERS - Speakers are just as important as the type of amplifier used, as they are the final voice the signal comes through. David's WEM speaker cabinets are typically loaded with Fane Crescendo 100w 12" speakers. They are a perfect speaker to blend with the Hiwatt sound, and out of all of David's gear, the Hiwatt/Crescendo combo could be said to define the core foundational tone heard in most Gilmour performances. The Crescendos have a distinct bright tone that accents the upper mid range. The sound is very detailed and cuts straight through in a band mix. The bright mid range is almost too bright with certain amps, like Marshalls, but works well with a Hiwatt and most Fender amps. It is perfect with mid-scooped pedals like the Big Muff and B.K. Butler Tube Driver.
"One of the first jobs I did in the band was to go out and buy him (Gilmour) some new Hiwatt amplifiers. I went down to Hi-Watt in Kingston (in 1974) and saw Dave Reeves and bought two 100 watt heads which are still in Dave's rack today. He had WEM 4x12 cabinets with Fane Crescendo speakers in, identical to the ones he uses now…" - Phil Taylor, Guitarist Magazine Jan 1995

"I have two new 100-watt Fender Twin Reverb heads running to two 4xl2 cabinets each-two WEM cabinets with Fane Crescendo speakers and two Marshall cabinets with Celestions." - David Gilmour, Guitar Player, Nov 1984
Fane Crescendo speakers were made by the legendary British loudspeaker company Fane throughout in the 1960s, '70s, and '80s. In the 1970s Fane made speakers for Selmer,Watkins (WEM), Simms-Watts, and Dave Reeves of Sound City and Hiwatt fame, which is likely where Pink Floyd was first introduced to them. Fane produced a massive number of speaker models with many different options, so there is not one "Fane" sound, and the Crescendos sounded very different to other Fanes. There were also several different Fane Crescendo models with various speaker frame designs and labels. The original Crescendos were 12" 100w, 15" 100w, and 18" 150w models, all available in both 8 ohm and 15-16ohm. Two common types of 12" Crescendos were made in the 1970s - type 'A' general purpose speakers, with aluminum dust caps, and type 'B' or 'B/L' for bass and organs, with plastic treated linen dust caps.

Shown above - Fane Crescendo speaker catalog pages and ad listings from the early 1970s.
The type of 12" Crescendos David Gilmour has used since the early 1970s are type 'A', with the identification code 122326 ink stamped on the speaker frame. These had large ceramic (anisotrophic ferrite) magnets, 20,000 gauss flux density, 2" voice coils with fiberglass formers, and 3" diameter aluminum dust caps with a round, felt diffuser mounted in the center. Aluminum caps were popular with many speaker manufactureres in the 1970s. They accented more of the upper mid range than paper or cloth dust caps, adding a unique, jangly top end to the Crescendo sound. They brought out much more detail in the top end than paper or cloth, but some found the sound too harsh. They work very well with the Hiwatt frequency range however. These silver dust caps can be seen through the grille cloth in David's 1994, 2006, and 2015/16 tour speaker cabinets. It is not clear if David has always used type A Crescendos with silver dust caps, but they can be seen in several of his WEM cab photos from 1973 and 1974, so he has probably always favored this speaker. Little is known about the speakers in David's combo amplifiers, but Phil Taylor revealed in a 2015 interview (Feb 2015 Guitarist Magzine) that David also uses Fane Crescendos in his Hiwatt SA212 combo studio amp.
Hiwatt DR103 through Fane Crescendo Type A speaker with a Green Russian Big Muff
Shown above - David Gilmour's WEM Starfinder 4x12 speaker cabinets loaded with Fane Crescendo 100w speakers, from Pink Floyd's
1973 and 1974 tours. Note the aluminum dust caps indicate these are Crescendo 12 'A' type speakers.
Shown above - David Gilmour's WEM Starfinder 4x12 speaker cabinets from his 2006 tour with barely visible
reflections from the aluminum dust caps from the Fane Crescendo 100w speakers.
Shown above - David Gilmour's WEM Starfinder 4x12 speaker cabinets loaded with Fane Crescendo 100w speakers, from his 2015 tour.
Note the aluminum dust caps visible through the grille cloth, indicating these are Crescendo 12 'A' type speakers.
Type A speakers were typically listed in speaker catalogs as "Crescendo 12A" and the spoke labels on the speakers identified them as type "12 A". I have also seen one catalog listing them as "Crescendo 100A", and a few with "100 'A' "on the spoke labels. The 15" Crescendos were also sometimes labeled "100A". The cast metal speaker frames had four spokes with a notch hole cut out of the bottom of each spoke around the mounting screw holes. They had solder tags to connect the speaker wires, but later 1970s and 1980s models changed to plastic push tags. Early model Crescendos had cast metal frames with plain spokes, and later "FANE MADE IN ENGLAND" was cast into one spoke. I have read that production changed to pressed/formed steel frames, but every Crescendo I have ever seen has a cast frame. Frames were coated with a gray hammerite finish but changed to black in the late 1970s-early 1980s. The outer edge of the ceramic magnets were wrapped with a ribbed foil sticker. ID labels, usually printed in black or red, were placed on one spoke, as well an ink stamped identification code. The speaker cones were also ink stamped with an identification code, although many only had a partial stamp because of the curved cone shape. The silver foil Crescendo label on the back plate was made in two versions - a Black Label and Silver Label. The Black Label had all black printing so the text was in silver on black. The Silver Label version was reversed so all the text was in black, other than The Crescendo name. Fane also sold the exact Crescendo speaker with a regular Fane label.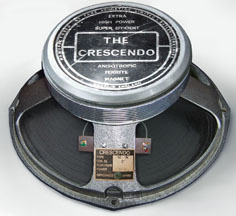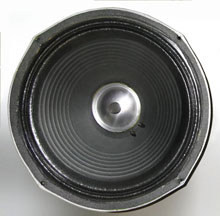 Shown above - Fane Crescendo 100w 12 A speakers from the early and mid 1970s with 122326 ID codes. This was the the type favored by Gilmour.
They had aluminum dust caps, and note the notches around the mounting screw holes that cut through the frame spokes.
Shown above - Three types of cap labels uses on 1970s Fane Crescendos, a black, silver, and a standard
Fane label that was also used on some speakers with the exact same specs as the Crescendo 12 A.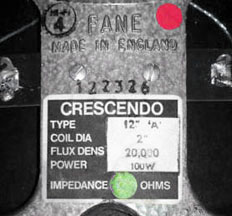 Shown above - Examples of frame spoke labels used on Fane Crescendos from the 1970s. Note the 122326 ID codes.
Also note the words "FANE MADE IN ENGLAND" cast into the spokes of early Crescendo frames.
Fane branded their stock speakers for Hiwatt, Sound City, and Simms-Watts, but they were usually marked with the same speaker model numbers as the Fane branded versions. I have seen many examples of Fanes with those brand labels on the exact same cast metal frame as the Crescendo, but they were not Crescendos. Most were 50w ot 70w Fanes with completely different specs. Fane also made a high powered 200w and 400w bass woofer version with a 4" voice coil called a Crescendo Colossus. I have also seen several 1980s era Crescendos labeled "12E" with black coated frames and push tags, in both 120w four spoke frames and 180w eight spoke frames. Those were more for PA purposes, but work in guitar speaker cabinets. They have more headroom than the 100w Crescendos, but I do not know how close they sound to the 12A Crescendos. There were also 12" and 15" "Crescendo M.V." speakers, and Crescendo 15B and 18B PA speakers which are a different type and sound than the 12A.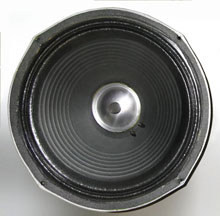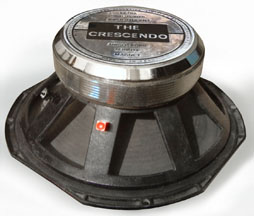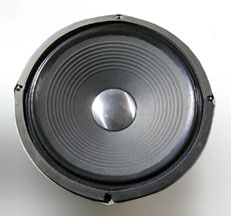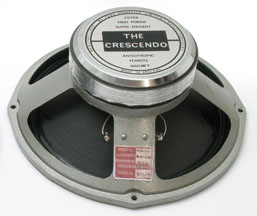 Shown above - There were various other versions of Crescendo speakers with differing 4 and 8 spoke cast metal
frame designs and differing cloth or aluminum dust cap designs. None of these are the type Gilmour used.
(top row) 1980s Crescendo 12 'E' and 15 'E' PA speakers and cones
(bottom left to right) 1983 Crescendo 12 'E' speaker cone, 1977 12 A speaker cone, and 100A speaker and cone.
The current Fane Acoustics company no longer makes Crescendos and vintage Crescendos in good condition are very difficult to find today, expensive when you can find them, and can sound very different from one another due to age and use. It is also sometimes difficult to identify real Crescendos. The same cast metal Fane frame used for the Crescendo was also used for other speakers with various wattages, magnet sizes, speaker cone types, and voice coils. Without seeing the model number or specs it can be very difficult to identify which is which because Crescendos were not always branded with a Crescendo label. I have also seen several counterfeit Crescendos. These are are sometimes Fane-made Sound City and Hiwatt speakers that use the exact same frame as the Crescendo with fake Crescendo and ID labels applied to them. I have also seen different model Fane speakers that have been re-labeled with fake labels. These are typically 50w or 70w Fane speakers with completely different specs and sound than the Crescendo.
I have listed as much information above as I can for those of you that want to seek out the original 12 A Crescendos, but there are several good alternatives below.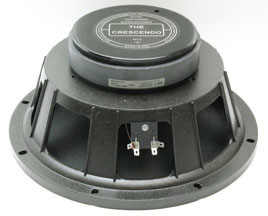 Shown above - 150w Crescendo 'A' with aluminum dust cap from Hi-Tone, made by Eminence, the only reasonably Fane Crescendo-like replica currently available
Hi-Tone Amplification sells a 150w Fane Crescendo replica called the Crescendo 'A', made by Eminence. Although not an exact copy, it is probably the most accurate replica of the sound of a 1970s Fane Crescendo available and includes the silver dust cap. Hearing a Hiwatt through them is instantly recognizable as the 1970s Gilmour sound. They are typically sold with Hi-Tone Eclipse 2x12 and 4x12 cabinets, but they can also be bought in the replacement speakers section on the Hi-Tone site. If you want the Delicate Sound of Thunder / Pulse era sound through a Hiwatt, use half Crescendo A and half Celestion G12T-75 speakers in your cabinet. That particular Celestion, especially those made in the mid 1990s - adds a thicker mid scooped tone with lots of low end to the bright mid range of the Crescendos to create a much richer and fuller tone.
Hiwatt DR103 through Hi-Tone Crescendo A speaker with a Green Russian Big Muff
Hiwatt (Reeves Custom 50) through Hi-Tone Crescendo A speaker with a BKB 911 Tube Driver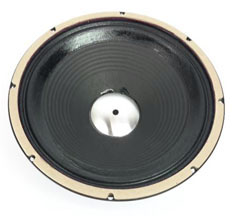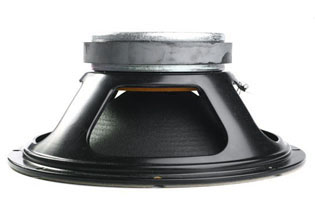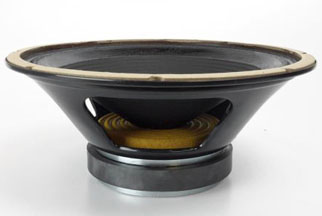 Shown above - 100w FC12 ceramic with aluminum dust cap from Ted Weber. Not exactly the Crescendo sound, but in the same family
Ted Weber FC12 100w ceramic speakers with aluminum dust covers are described as having the "Classic British Fane Crescendo tone". The FC in the name stands for Fane Crescendo, and they include the silver dust cap like the original Crescendo, but they really do not sound anything like a Crescendo. Similar tone family, but more of a distant relative, and more balanced for a wider variety of music. They do not have the same range in the highs and have a darker, fatter sound compared to the Fane Crescendo, but work well with a Hiwatt for Gilmour tones. They are also available with Alnico magnets.
Hiwatt DR103 through Weber FC12 speaker with a Green Russian Big Muff
Hiwatt (Reeves Custom 50) through Weber FC12 speaker with a BKB 911 Tube Driver
Shown above - Hi-Tone 75w DR-F speaker made by Eminence, based on a Fane purple backed speaker from the 1970s
The Hi-Tone DR-F 75w speakers are another good option for those who find thier Crescendo A speakers to be too bright. DR-Fs, which stand for "Dave Reeves Fanes", are based on the Fane 125161 purple backed speakers used in vintage Hiwatt cabs from the late 1970s. They are also bright speakers, but are more balanced for a wider variety of music and have less upper mids and more lower mids than the Crescendo A. They work well with a Hiwatt for Gilmour tones.
Hiwatt DR103 through Hi-Tone DR-F speaker with a Green Russian Big Muff
Hiwatt (Reeves Custom 50) through Hi-Tone DR-F speaker with a BKB 911 Tube Driver
Reeves original 75w Vintage Purple speaker made by Eminence, and the updated version on the right. Based on Fane purple backed speakers from the 1970s
Reeves Amplification also produce some excellent 2x12 and 4x12 speaker cabinets fitted with Vintage Purple 75w speakers made by Eminence. Like the Hi-Tone DR-F speakers, these are also based on one of the many Fane purple-backed speakers that were included in 1970s Hiwatt cabs. The type I have (with purple label, shown above) sound very similar to the Hi-Tone Crescendo A speakers, but not as bright. The tone falls somewhere in between the Crescendo A and Weber FC12. They have a great Gilmour sound to them when paired with a Hiwatt amp and blend very well with mid 1990s Celestion G12T-75 speakers. The later Vintage Purples have a different cast metal frame and label. Reeves claims they sound very similar to the original Purples, but I have never tried them. They can be purchsed in speaker cabinets or individually here.
Hiwatt (Reeves Custom 50) through Reeves Vintage Purple speaker with a Green Russian Big Muff
Hiwatt (Reeves Custom 50) through Reeves Vintage Purple speaker with a BKB 911 Tube Driver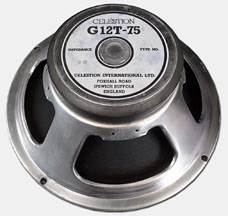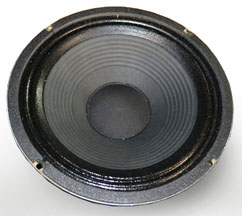 G12T-75 speakers with vent hole on back made by Celestion in England in the 1980s (left) and the version without the vent hole from the 1990s (middle and right)
The Celestion G12T-75 is another 75w speaker that sounds good with Hiwatt style amplifiers, but the sound has changed over the years. T-75s were first made in 1984 and are the most common type of Celestion speaker, so they are very easy to find. Originally the G12/75 and G12T-75 had a vent hole on the back to relieve VC pressure and tame the high end, allowing them to stay clean at very high volume, but later G12T-75 speakers from around 1986 onward had no vent. Originally the UK made T-75s were brighter sounding, but around 1995 Celestion changed the voicing to a darker sound, with much more mid scoop and low end. Around 2002-2003 production moved to China and the sound changed again, to something in between the 1980s sound and the more mid scooped 1990s sound. G12T-75 speakers from the 1980s and 1990s were made in England and say Made in England or Ipswitch England on the round magnet label. Those can be identified by the ink stamped date code on the frame spoke. Production made after 2002-2003 in China do not have the ink stamp, they have a white rectangular label on the side of the magnet.
I have a set from 1995 and the tone is almost the opposite of the Crescendo, but paired with a Hiwatt it has a very Gilmour-like sound. The tone is fatter and more mid-scooped than a Crescendo, with tight highs and a modest low end. It is a much darker sound than the other speakers listed above, and may not jump out as well in a band mix, but it still works well for gilmour tones. I use it to pair with brighter speakers like the Hi-Tone Crescendo A, DR-F, or the Weber FC12.
Hiwatt DR103 through Celestion G12T-75 speaker with a Green Russian Big Muff
Hiwatt (Reeves Custom 50) through Celestion G12T-75 speaker with a BKB 911 Tube Driver
The Eminence Tonker and Tonkerlite speakers were rumored to be Crescendo clones. I never tried the standard Tonker, but I tried the Tonkerlite, which was supposed to be the closer of the two. They may sound similar to some model of Fane speaker, but nothing like the Crescendo. The Tonker Lite reminded me more of the Vintage Purple Fane sound.
FENDER SPEAKERS - David used a 1972-74 era Fender Dual Showman Reverb head with a matching Fender 2x15 inch speaker cabinet in the 1976 recording sessions for Pink Floyd's Wish You Were Here album, along with his Hiwatt/WEM cab, and a Leslie 760 rotary speaker cab. The Showman was sold with a matching speaker cabinet fitted with JBL D-130F 15" speakers or optional D-140F 15" speakers.
The 1990 tweed Fender 59 Bassman RI combo amps David used throughout the 1990s and early 2000s were fitted fitted with four 10", 8 ohm, 20w Legend 1028P blue frame Alnico speakers with paper voice coils, made by Eminence for Fender. The later 59 Bassman LTDs from 2000 onward changed to Jensen P10R speakers with kapton voice coils, which sounded similar, and could handle high volume much better. I have both and prefer the sound of the blue frame Alnicos. They are slightly warmer sounding than the Jensens, and have a cleaner sound to my ears.
Gilmour's 1990-91 era 59 Bassman reissue with 10" blue frame Alnico Legend 1028P speakers (Evidence Audio photo)
10" blue frame Alnico Legend 1028P speakers with paper voice coils, made by Eminence for Fender
Unfortunately, there was no consumer version of the original 1028P speaker offered by Eminence, but at the time I wrote this, Eminence was still making them exclusively for Fender to sell as replacements on their website, although somewhat expensive. Fender says they are 30w, but they are actually the same 20w Legend 1028P blue frame Alnicos found in the original Bassman RIs. An alternative is the less expensive 1028K version that is readily available. The difference is the K has a kapton voice coil instead of paper, and is 35 watts instead of 20. It's a bit brighter than the paper version according to Eminence, but not really any better sounding than the stock Jensen speakers already in the Bassman RI.
BLENDING CRESCENDOS WITH CELESTIONS - David nearly always runs at least two amplifiers at once in his live rigs, each going to its own speaker cabinet with its own type of speakers. Both amps are alwasy on, which allows him to have a blend of both types of speaker tones. In 1984, 1986, 1994, 2001- 2006 David combined his Fane Crescendo speakers with Celestion speakers to make a more balanced sound in his live rigs. Sometimes the Celestions were loaded in Marshall JCM-800 4x12"speaker cabinets, like in 1994 and 2001-2005, and sometimes in his WEM cabinets, like in 2006 and 2015.
Hiwatt (Reeves Custom 50) through Hi-Tone Crescendo A and Celestion G12T-75 speakers with a BKB 911 Tube Driver - Louder Than Words solo
Hiwatt (Reeves Custom 50) through Hi-Tone Crescendo A and Celestion G12T-75 speakers with a Ram's Head Big Muff - In Any Tongue solo
Same as above, but with a Green Russian Big Muff - In Any Tongue solo
Same as above, but with a BKB/Chandler Tube Driver - In Any Tongue solo
The type of Celestions David used have not always been clearly identified. The stock Marshall cabinets were sold with several different speakers types at different times: G12/75, G12-80, G12M-70, G12-100, G12H-100, G12-65 (1978-1983), G12T-75 (1984 - 1990). For David's 2006 tour he had three WEM Starfinder 4x12" cabs. One was loaded with Fane Crescendos and another was loaded with Celestion 75s, according to Analogman. Those were used with his Hiwatts, and I presume the third was a spare. Those Celestion 75s were most likely Rola Celestion G12/75, introduced in the 1970s, or the later G12T-75 version made in England in the 1980s - 1990s. I dount they were the China made version that satrted production around 2002-2003. In some ways the 75 sound is the opposite of the Fane Crescendo, which is why they balance so well with them.
"His stage speaker system consists of two WEM 4x12's with Fane Crescendo speakers, two Marshall 4x12's and three custom-made rotating speaker cabinets we call "doppolas." - Phil Taylor, Guitar World Sept 1994

"I've got three normal Hiwatt heads, AP100s…One Hiwatt powers a WEM 4x12 with the Fane Crescendos in it and a Marshall with Celestions; the second does the same thing but it has a chorused version of the first signal' in effect, this means that one pair has a wet signal and the other remains dry." - Phil Taylor, Guitarist Magazine Jan 1995
David also mixed Crescendos and Celestions for his 2015-2016 tour. According to Phil Taylor, one WEM 4x12 cab was loaded with Crescendos and used with his DR504 Hiwatt, and one was loaded Celestion G12-100 speakers for use with his Alessandro amp. G12-100 (T3058, 15ohm) were made in the Rola Celestion period. The modern version of that speaker is the G12H-100. David had a third WEM loaded with Crescendos behind him as a spare that was used to monitor his second guitarist in the first part of the 2016 tour.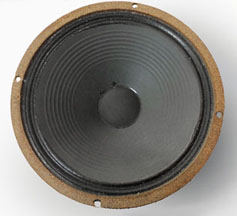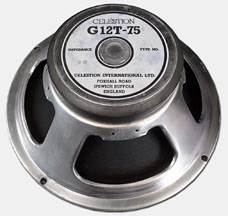 Shown above - Rola Celestion G12/75 from 1976 and the Celestion G12T-75 from 1984, both made in England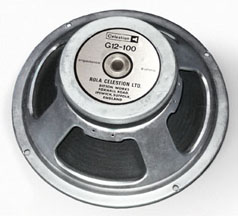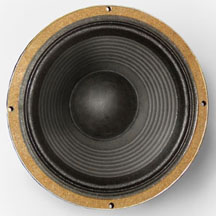 Shown above - Rola Celestion G12-100 from 1982, made in England
For those of you wanting this sound in a 4x12 cabinet, you can load two Celestions and two Crescendos, or one Celestion and one Crescendo in a 2x12. If you just want one speaker that blends both the bright mid range Crescendo tone and the darker, mid-scooped Celestion tone through a Hiwatt, try the Weber British Series ceramic FC12F speakers. I have them in a 2x12 cab and they sound very similar to the blend of Crescendos and Celestions I have in one of my 4x12 cabs.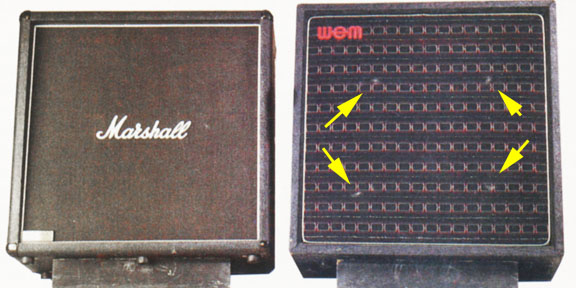 David Gilmour's Marshall JCM-800 speaker cab loaded with Celestion speakers and his WEM 4x12 cab loaded with Fane Crescendo 100w speakers,
from 1994. Note the aluminum dust caps visible through the grille cloth, indicating these are Crescendo 12 'A' type speakers.
David Gilmour's WEM 4x12 cabinet loaded with Fane Crescendo 100w speakers and Marshall JCM-800
speaker cab loaded with Celestion speakers from 2001 (left) and 2004 (right)

---
TYPES OF SPEAKER CABINETS - There are many good brands of speaker cabinets - Marshall, Fender, Mesa, Hiwatt, Hi-Tone, Reeves, Peavy, Bogner, Orange, et cetera. In general, as long as it is a sturdy, well built cabinet, I don't think it matters which brand it is. Plywood or solid wood cabs are going to be sturdier and last longer than particle board if they get hauled around a lot. There are many cabinet sizes with various speaker sizes and configurations. A 1x12" cab or 2x12" (two 12" speakers) is suitable for most home or small venue players. 4x12" cabs are overkill for home playing and are really only necessary for large venues. That said, I use both at home, but I do not have close neighbors who would complain. Closed-back cabinets sound more focused and project the sound in one direction. Open back cabs spread the sound more in all directions and can sound looser. I prefer closed back cabs for most things, especially distorted electric guitar, but that is just because they sound better to me in my small studio. I also think the low frequencies sound less flabby with closed backs, especially from a Big Muff. On the other hand, I like my small open backed Fender combos when playing clean and overdrive because they sound better filling the room. I don't think one is any better than the other, it's just a matter of personal taste.
Cabinets typically come wired for 8ohm or 16ohm impedances. 16ohm is more efficient for tube amps and 8ohm more efficient for solid state amps. There is typically zero difference in the sound of one impedance over the other, so it does not matter which you choose. What does matter is that the cab impedance matches the impedance of your speakers and your amplifier. So a 16ohm amplifier should be matched with a 16ohm cab running 16ohm speakers. There are some speakers models that have parameter specs that are slightly different for the 8ohm version than the 16ohm, but probably not much of an audible difference other than slightly more midrange with the 8ohm version.
WEM SPEAKER CABINETS - David Gilmour has used a wide variety of small combo amps (amplifier + speakers in one cabinet) in the recording studio, but his early studio rigs and live rigs usually consisted of amplifier heads powering separate 4x12" speaker cabinets. Since the 1970's and throughout most of his career David's Hiwatt heads powered WEM (Watkins Electric Music) Super Starfinder 200 4x12" speaker cabinets. In fact, he has used the same WEM cabinets in his live rigs from 1970-2016. WEM cabs were famously used by The Who, Jimi Hendrix, and Pink Floyd, who showcased them to the world in thier Live at Pompeii movie in 1972.
WEMs were very distinctive looking and had a grille cloth pattern unlike any other speaker cabinet maker. They were also much heavier and used thicker wood than the Hiwatt and Marshall 4x12 cabinets of the time. They were built for Watkins by Rawson Sparfield Ltd, in Haverhill, Suffolk, England, the same builder who made cabs for Selmer and others. The Starfinder 200 cabinet size was 30" x 30" x 14 1/2". The frames were made of heavy 5ply plywood, not particle board like other 4x12 cabs of the era. The 1 1/8 " baffle was made in two pieces, consisting of a fixed 3/4" plywood (12 ply) speaker baffle board and a cloth and piping covered 3/8" front baffle board that was screwed to the speaker baffle. The braided piping on the early Starfinders was gold but changed to silver and red on later production. The unique grille cloth was actually made in two layers - a thin front layer that was practically see through, stapled over a black mesh back layer. The black Tolex covered frame had triangle-shaped braced corners and was center cross braced with a 1" steel rod. The jack socket was recessed on the early Starfinders but changed to a plastic socket bracket on later production. WEM sold these with many different brands of speaker inside, including Fane, Celestion, and Goodman. The empty cab weighs about 35kg/77 lbs. Depending on the speakers used, these cabs typically weigh in at 50-68 kg/110-150 lbs range!
Watkins no longer make WEM cabs and they are extremely very rare to find in good condition these days, and even those in poor condition are very expensive. Most people do not need a large 4x12 cabinet for home or club gigging, but if you do want a 4x12 cab close to a WEM, there are a few options. One is the Hi-Tone Eclipse 4x12 speaker cabinet. While not an exact replica, it is the same size and is built like a tank. It utilizes a wood cross brace rather than steel, but the build specs and looks are very similar, and it has a similar embroidered cloth pattern. There are also custom speaker cabinet builders who can build a similar cab (no WEM logo or grille cloth though), like Jeff Swanson of swansoncabinets.com. In 2010 Hiwatt UK briefly sold an unlicensed, China made, WEM branded Starfinder 4x12 cabinet made of particle board with printed cloth. They can occasionally be found on the used market, but I do not know anything about the accuracy or build quality.
Shown above - WEM Starfinder Super 200 4x12 speaker cabinet catalog ad, and a refurbished Super Starfinder 200 loaded with Fane Crescendo 12A speakers
Shown above - Original WEM speaker cabinet badge and cloth pattern.
Note the silver dust cap of the Fane Crescendo speaker visible through the grille cloth on the right.
---
---
LINKED INPUTS - Many high powered Marshall, Fender and Hiwatt amps have four inputs. Usually two inputs go to one channel and two to another. This was originally intended to allow more than one instrument to be plugged into the same amp. Each channel had a high sensitivty input and a low sensititvity input. The high sensitivity inputs are a bit hotter sounding and the low are a bit mellower sounding. If you have high output Strat pickup or Humbucker pickup, it may sound best and tamer through the low inputs. If you have a weak output pickup it may sound best through the high inputs. There is no right or wrong, it's just a matter of which input sounds best to you. Four-input Marshalls typically have the high sensitivity (high gain) inputs at the top and low sensitivity (low gain) inputs at the bottom. Most four-input Hiwatts have the reverse, low sensitivity inputs on top and high on the bottom.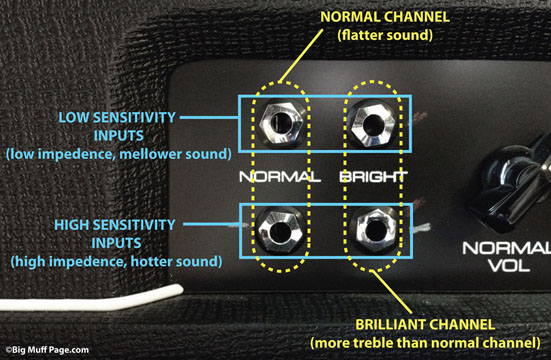 The four inputs on a Hiwatt DR103 or Reeves Custom 50/Custom 100
Guitarists have been linking the input channels together on these four-input amps since the beginning, including Gilmour. Linking two channels allows a parallel (not stacked) blend of both channels simultaneously. This causes no harm at all to the amp and allows for more more tonal options when both channels are running at the same time. In the early days of Pink Floyd, from 1969 to Summer 1974, Gilmour used Hiwatt DR103 AP (all purpose) model 100w amps, made for him with "Pink Floyd" engraved on the faceplate (all had AP in the serial number). These were modified so both the Normal and Brilliant channels were linked internally to the normal volume pot. The Brilliant volume pot was removed and the Normal inputs were taped over. David plugged into the High sensitivity Brilliant input. The exact wiring for this mod is unknown. The Brilliant volume pot may have been replaced by a fixed value resistor, or completely bypassed.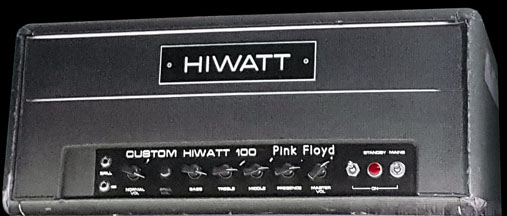 David Gilmour's Custom "Pink Floyd" Hiwatt 100s used from 1969-1973, with Brillaint volume pot removed and Normal inputs taped over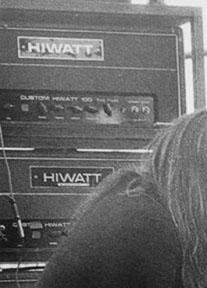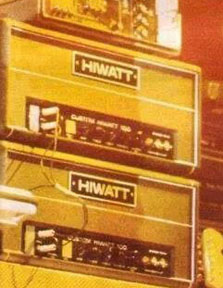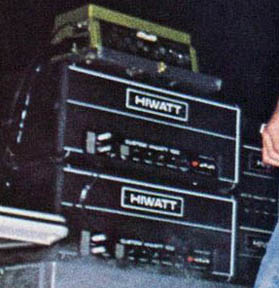 David Gilmour's Custom "Pink Floyd" Hiwatt 100s from 1971 (left), and Custom 100s from 1973 (right)
all with Normal inputs taped over and Brillaint volume pots removed
The Hiwatts David used from 1969-74 had a preamp tonestack that was similar to early Fender and Marshall tone stacks, different from the preamp tone stack that became the standard in later DR103s. During the band rehearsals in the Summer of 1974 Phil Taylor, David's new backline tech, bought several new Hiwatt DR103 models from current production. David used these for practically every Pink Floyd tour thereafter, and his solo tours up to 2016. David linked the High Sensitivity inputs of each channel on these Hiwatts, and later had them modified to have this linking done internally. Effects rig legend Pete Cornish made these mods, wiring the two high sensitivity inputs (each with a 1MOhm resistor) to one of the other inputs, which had the input resistor removed. The fourth input was disabled and filled with a dummy plug. These are high impedance inputs, so linking them does not put a load on the guitar signal and there is no measurable signal loss. David's SA212 Hiwatt Combo amp also had the inputs internally linked.

David Gilmour's Hiwatt SA212 combo with internally linked inputs. The chassis is mounted upside down compared
to a Hiwatt DR103 so the linked inputs appear reversed, but they are actually the same.
To link the inputs on my Reeves Custom 50 I plug a Y cable into the high sensititvity inputs (bottom left and right inputs) to link both channels, which is mechanically the same as linking them internally. You can also link a high sensitivty input of one channel with the low sense of the other channel, or use a jumper cable to patch any two of the four inputs together, and plug the guitar into one of the other inputs. Many combinations work, but using a Y cable (a simple mono to split mono) is the easiest way to link them, and linking the high sensitivity inputs sounds best to me. The high sensitivity inputs are the bottom two on a four-input Hiwatt like the DR103 or DR504 (same on the comparable Reeves and Hi-Tone amps), and the top two on an SA212 Hiwatt combo (because the SA212 chassis is mounted upside down compared to the DR103).
Two methods of linking the inputs: (left) a Y-splitter cable (right) a patch cable
I have experimented linking the inputs on my 59 Bassman but I prefer the sound of only the bright input 1. I do not link the inputs on my Twin Reverb, as the channels are out of phase and sound a bit odd together. There is a extra triode (a gain stage) in the reverb channel of the Twin, and every triode the signal passes through inverts it. Linking the inputs causes no harm at all to the amp, but the since each input signal is inverted, some of the signal is cancelled out. Some people still do it and like the sound, but it does not work for Gilmour tones in my opinion.
---
GILMOUR'S HIWATT SETTINGS - Below are David's Hiwatts settings from photos taken during various Pink Floyd and David Gilmour solo concerts. Most of the settings are very similar, with the exception of the 1977 Animals tour. Note, the AP (all purpose) DR103's David bought in the early years (1969-70) do not have the same preamps as the later ones he purchased around 1974, so these settings may not result in the exact same sound from your Hiwatt even when using the same type of cab and speakers David was using. Those early preamps were more like Fender or early Marshall preamps. Some of those Early Hiwatts had linear pots and some logarithmic/audio pots, which completely changes the taper/pot positions for the same sound. Also, tonal differences from the tubes used and changes in cap values because of age and/or changes to the pot values as the resistive film has gotten worn away over the years can alter the sound.

Here are David Gilmour's actual studio Hiwatt DR-103 settings from the Dark Side of the Moon through The Wall era. The upper normal input and lower brilliant inputs were internally linked, which is why there is a dummy plug in the upper left input.

For David's 2004 Strat Pack performance the settings changed as shown above. One DR-103 head was switched between a WEM 4x12 speaker cabinet and a Marshall 4x12 cab.

For David's 2006 tour the settings changed as shown above, based on the tic marks shown in the photos taken by Pete Cornish when he worked on the amps prior to the tour. The upper normal input and lower brilliant inputs are internally linked. Photos of the amp settings from the tour vary only slightly form these settings. Note that one DR-103 head poweried a Marshall 4x12 speaker cabinet, and another a WEM 4x12 speaker cabinet. Settings were identical except the bass was set slightly higher for the WEM cabinet (gray line). Your Hiwatt settings will vary depending on the cabinet type, speaker type, and number of speakers used, so this should only be used as a starting point for your own settings.
2015/2016 Rattle That Lock tour
The NORMAL and BRILL high sensitivity inputs are internally linked
Normal. Volume: 2:00
Brillant Volume: 12:30
Bass: 3:30
Treble: 8:30
Middle: 1:00
Presence: 9:30
Master: 8:30
2015 KOKO gig with Boombox
The NORMAL and BRILL high sensitivity inputs are internally linked
Normal. Volume: 2:00
Brillant Volume: 11:00
Bass: 2:00
Treble: 9:00
Middle: 12:30
Presence: 8:00
Master: 8:00
2014 Hiwatt SA212 settings from Hove studio
This is the same amp chassis and the DR103 head, just mounted upside down in the combo, so the inputs are upside down, but David's 212 inputs appear to be linked as if they were right side up, the same as David's Hiwatt heads. They may have been internally linked the same as the heads, but re-wired so that the upper right input is the linked input, since David is familiar with using that one on his Hiwatt heads.
Normal. Volume: 2:00 tic mark 12:30-1:00)
Brillant Volume: 12:00 (tic mark 11:00)
Bass: 1:30 (tic mark 11:00)
Treble: 9:30
Middle: 12:00
Presence: 10:30
Master: 9:00 (tic mark 8:00)
2006 Tonight Show performance
The NORMAL and BRILL high sensitivity inputs are internally linked
Normal Volume: 2:00
Brillant Volume: 1:00
Bass: 11:00
Treble: 9:00
Middle: 12:00
Presence: 3:00
Master: 9:00

2006 On an Island tour tic marks
The NORMAL and BRILL high sensitivity inputs are internally linked
Normal Volume: 2:00
Brillant. Volume: 1:00
Bass: 11:00
Treble: 10:00
Middle: 1:30
Presence: 3:00
Master: 9:00
2006 Pete Cornish pic - same tic marks on 3 Hiwatts (1994 tour Hiwatts)
The NORMAL and BRILL high sensitivity inputs are internally linked
Normal Volume: 2:00
Brillant. Volume: 12:00
Bass: 12:00
Treble: 9:30
Middle: 10:00
Presence: 10:30
Master: 9:30 -10:00
2004 Strat Pack concert
The NORMAL and BRILL high sensitivity inputs are internally linked
Normal Volume: 2:00
Brillant Volume: 1:30
Bass: 10:00
Treble: 10:30
Middle: 3:00
Presence: 1:30
Master: 9:00
2003 Interstellar Exhibition tic marks (1994 tour Hiwatts)
The NORMAL and BRILL high sensitivity inputs (bottom left and right inputs) are linked internally (each with a 1MOhm resistor) to the upper right input, marked LINKED. The upper left input is filled with a dummy plug.
Normal Volume: 2:00
Brillant: Volume: 1:30
Bass: 9:30
Treble: 10:00
Middle: 10:00
Presence: 1:30-2:00
Master: 8:30
1994 tour Hiwatts (from magazine photos)
Note - the pre amps were disconnected and tone section bypassed, which is why the master running the power amp was cranked so high and the pre and tone knobs dialed off.
Normal volume - 0
Brillant volume - 0
Bass - 0
Treble - 0
Middle - 0
Presence - 2:00(R) 1:00 (L)
Master - 5:00 ( tic mark shows 1:00)
1980 The Wall concerts - Pete Cornish photos
The NORMAL and BRILL high sensitivity inputs (bottom left and right inputs) are linked internally (each with a 1MOhm resistor) to the upper right input, marked LINKED. The upper left input is filled with a dummy plug.
Normal Volume: 2:00
Brillant Volume: 11:30
Bass: 1:00
Treble: 11:00
Middle: 11:30
Presence: 1:00
Master: 11:00
1977 Tour (pieced together from different, incomplete photos, and the Interstellar Exhibition photos)
Y cable plugged into upper and lower Brill inputs. Normal inputs taped over.
Normal Volume: 2:00
Brillant Volume: unknown
Bass: 1:30
Treble: 3.00
Middle: 3:00
Presence: 3:00
Master: 2:30 (one photo shows about 10:00-10:30)
1974 Hiwatt tic marks
Normal. Volume: 2:00
Brillant Volume: 1:00
Bass: 1:00
Treble: 9:30
Middle: 10:00
Presence: 9:30
Master: 9:00
1973 tour photo from Earls Court (May 1973)
Y cable plugged into upper and lower Brill inputs. Normal inputs taped over.
Normal. Volume: 5:00 (maximum)
Brillant Volume: pot removed and taped over. If it was simply removed and bridged, same as setting pot at maximum.
Bass: 10:30
Treble: 3:15
Middle: 9:30
Presence: 3:30
Master: 5:00 (maximum)
1971 tour photos from Sydney Australia (August 1971)
Cable plugged into lower brilliant input. Upper and lower normal inputs are taped over.
Normal: 3:00
Brillant Volume: pot removed and taped over. If it was simply removed and bridged, same as setting pot at maximum.
Bass: 11:00
Treble: 3:30
Middle: 10:00
Presence: 3:30
Master: 5:00 (maximum)
1971 tour photos from Japan, August
Cable plugged into lower brilliant input. Upper and lower normal inputs are taped over.
Normal: 3:00
Brillant Volume: pot removed and taped over. If it was simply removed and bridged, same as setting pot at maximum.
Bass: 10:00
Treble: 3:30
Middle: 10:00
Presence: 4:30
Master: 5:00 (maximum)
1971 tour photos and films from Austria, August
Cable plugged into lower brilliant input. Upper and lower normal inputs are taped over.
Normal: 5:00 (maximum)
Brillant Volume: pot removed and taped over. If it was simply removed and bridged, same as setting pot at maximum.
Bass: 9:00
Treble: 4:30
Middle: 7:00
Presence: 3:00
Master: 5:00 (maximum)