Left to Right - Original 1973 album sleeve art by Hipgnosis/George Hardie, 20th anniversary CD art,
30th anniversay SACD art, and 2011 Experience Edition, and Immersion Edition remaster
THE DARK SIDE OF THE MOON GUITAR TONES - One of my all time favorite albums is Pink Floyd's Dark Side of the Moon. It was recorded in the famous Abbey Road Studios in 1973, and its release on March 1st 1973 (March 16th in the UK) made Pink Floyd known worldwide. It basically put them on the map, and showed the public and the music industry that a "concept" album could be both popular and profitable. It also showed that the music, not the personalities behind it, could sell records. The four individual band members were relatively unknown and faceless at the time. Each was in top form and each wrote and contributed to the writing of what is arguably their greatest work. In some ways, Dark Side is the definitive Pink Floyd album. It combined the best elements of Floyd's previous works into one cohesive piece that showcased each member's talents equally.
David's guitar work and tones were incredible, and Roger wrote some of the best songs and lyrics of his career. The mix of David and Rogers' individual voices singing lead on different tracks made for an interesting contrast of vocal styles, with each fitting the respective songs. Richard Wright's keys were both beautiful and haunting, and his voice perfectly harmonized with Davids. Nick Mason's drum work expertly kept it all together, and he and Roger formed the perfect rhythm back bone for the album. Together the Floyd produced one of the finest rock albums in history, encompassing a very broad range of blues based musical styles, soundscapes, and effects. DSOTM effectively creates a mood, and as you get sucked in from the very first track, it carries you on a musical journey centered around life and the short time each one of us has to live it. As a testament to how popular this album was, and remains to this day, it stayed in the charts for 591 consecutive weeks (over 11 years) on the Billboard top 200 charts. It ramianed in the charts for around 14 years until Billboard changed the way it calculated chart positions.

Billboard cover from February 24th 1973 with Dark Side of the Moon release advertisement showing the US release date
My first exposure to Pink Floyd was hearing the song Time on the radio when I was a child. I absolutely loved this song, from it's enigmatic rototom intro to David's searing guitar solo. At the time, this was the most incredible solo I had ever heard, and it caught my attention every time it came on the radio. There was a huge power behind that scortching sound that made an impression on me, as did the melodic way it wove in an out of the chords. It was almost a song within itself. No one else sounded quite like David did. It was my favorite guitar solo - at least until a little song called Comfortably Numb hit the airwaves a few years later. Money was also another track played heavily on the radio. That was my second favorite guitar solo. I thought that guy on Money was good, but not quite as good as the guy who played the solo on Time. A short time later I realized it was the same band! Almost every track on the record received airplay on the various radio stations I listened to, but it was not until I got my first job as a teenager and started buying LP vinyl records that I was able to hear Dark Side of the Moon as a whole. That first time listening from beginning to end was a very moving experience, and listening to it today I still have the same feeling I had when I first heard it.
With Dark Side of the Moon David Gilmour's guitar playing and tones had reached a new level. His mix of modulated clean tones, echo drenched slide guitar, and screaming fuzz leads seemed to fit every song like a glove. The unique tones really stood out above other guitarists at the time, and still stand out today. He used a very simple setup by today's standards, but those were not very easy tones to replicate, as I leaned by trial and error.
One of Gilmour's Dallas-Arbiter Fuzz Face pedals (left) and a later Fuzz Face (right)
DAVID'S DARK SIDE GEAR - David Gilmour used Fuzz Faces extensively from 1968, shortly after the time he joined Pink Floyd, and throughout the 1970s. His first fuzz pedal was the Tonebender sometimes used by Syd Barret. He could not get along with it and soon switched to a Dallas-Arbiter Fuzz Face. His first was likely the type still being made with NKT275 Germanium transistors. Dallas began using more stable NPN Silicon transistors soon after, and those were possibly in production by late 1968 or early 1969. By 1971 David was almost certainly using the Silicon versions of the Fuzz Face, and they were used for most of the distortion/fuzz tones on Dark Side of the Moon. A simple description of the sonic differences between Germanium and Silicon circuits are that the Silicon had a brighter and more punchier attack and distortion than the tamer, warmer Germanium version. The distortion also cleans up better well when dialing the guitar volume down when using a Germanium version than Silicon.
The Fuzz Face David is pictured using for the Obscured by Clouds sessions/Dark Side era, and shown in the Pink Floyd Mortal Remains exhibition, is a blue Fuzz Face with the wide raised top, marked Dallas-Arbiter-England. There are color photos of a dark blue Dallas-Arbiter FF David used around 1972, and the one in Pink Floyd's Pompeii film was dark blue, but he owned several Fuzz Faces. Some studio photos show 2 or 3 on the floor around David. Some concert photos show several on the stage floor as well. He likely tried dozens of them to find ones he liked, because the sound could vary greatly from one to another due to the different transistors used and the way they were biased.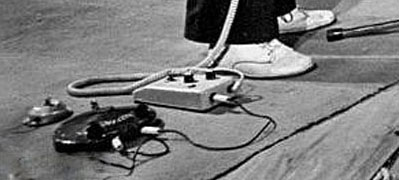 David Gilmour using the 18v Colorsound Power Boost and a blue Dallas-Arbiter Fuzz Face on stage with Pink Floyd in the Netherlands in 1972.
Note that the Power Boost is first in line after the guitar and it is missing the bass knob.
There is a unique, crunchy sag on the pick attack of David's fuzz solos on Dark Side, so David must have owned a few really good units. The note drops on the pick attack and then immediately recovers with a "bloom" as the note rises in volume and sustain. This is due to the transistor voltage dropping on the initial attack signal, then quickly revovering. I have played a lot of different Fuzz Faces and various clones, and have only come across a few that had that same kind of sag and bloom as I hear on Dark Side of the Moon. Those are the ones I use most, and both have BC108 transistors.
There is some debate over which transistors were inside the Fuzz Faces David used, BC108 or BC109. Early Fuzz Faces used BC183L & BC183KA transistors, but by late 1969 or early 1970 Dallas-Arbiter began using BC108C transistors. This was around the same time they started painting the enclosures in various shades of blue, like the ones David was seen using. BC108C seem to be the more common transistor used in Fuzz Faces from the 1971-72 period, but we really have no idea which type was inside the various ones David owned. There supposedly were BC109 transistors in the Fuzz Face built into his 1976-79 Pete Cornish pedal boards (according to Cornish in a 1995 Guitar World), and indeed the mid 1970s US made Fuzz Faces used BC109, BC109C, BC209C transistors, but those were all made after DSOTM was recorded. There is very little difference between BC108s and BC109s as far as the sound. It all depended on the gain of the individual transistor and how it was biased, and that varied. You will hear far more difference between the Germanium NKT275 and the BC108/109s Fuzz Faces than you will between BC108s or BC109s.
THE FUZZ FACE ORIGIN - The Fuzz Face was one of the more popular pedlas to come out of the late 1960s fuzz craze. It most likely originated as a modification of an early 2 transistor version of the Colorsound Tonebender, which was itself an evolution of the Maestro Fuzztone circuit. In late 1966 Arbiter's Fuzz Face hit the market, from Ivor Arbiter's Arbiter Electronics manufacturing/distribution company. Arbiter owned three stores in London, one of which was called Sound City. The Fuzz Face, said to have been available in late 1966 (September-November according to one source), was Arbiter's entry into the fuzz box market. Jimi Hendrix was one early users, as was Leigh Stephens of Blue Cheer. Jimi made awesome sounds with his Fuzz Face using a Strat and a Marshall amp, and even though it was only one tool in his tone arsenal, he was heavily associated with it thereafter.

Due to the association with Hendrix, the Fuzz Face became one of the most popular and legendary fuzz pedals in the history of rock & roll. The earliest Sound City catalog the FF appeared in was 1967. Hendrix was first seen using one in the second week of November 1966 in Munich, Germany. That places it on the market around a year after the 2-transistor Tone Bender it seems to be based on. However, many people later came to believe that the Fuzz Face was actually the first commercial fuzz box on the market in the UK, which is not correct at all. It was essentially a knockoff of an existing product, housed in an odd, but oddly appealing enclosure.

The idea for the round enclosure shape came to Ivor Arbiter from looking at a microphone stand. The knobs for eyes, name label as the smiling mouth, and footswitch for a nose was an oddly appealing gimmick that worked magic on people. The two-transistor circuit used Germanium transistors and was nearly identical to an early Tone Bender, which is now known as the Mk1.5. It aso used a similar circuit pathway as the Vox Distortion Booster, but the component values were closer to the MK1.5, so it was likely copied from that circuit. One clue that the FF was copied from the MK1.5 Tone Bender was the fact that the instruction sheet for the FF states it is a "battery powered tone-bending unit". The Tone Bender was on someone's mind at Arbiter!

Early black and gray units were branded "Arbiter England". In 1968 the branding changed to "Dallas•Arbiter•England" when Arbiter was sold to John E. Dallas & Sons. Blue Fuzz Faces like the ones David was seen using were first offered in 1969 or early 1970.
For overdrive tones I believe David used a Colorsound Power Boost. Some sources say David used an Orange Treble & Bass booster for DSOTM. Orange was a small company making effect pedals in the early 1970s, but there is no evidence that they ever made a treble & bass booster, and this myth appears to be a misunderstanding of something David's gear tech, Phil Taylor, said in an interview. Phil was quoted saying David used an "orange treble and bass booster". This was actually a literal description of the Colorsound Power Boost , which was a bright orange colored booster pedal, featuring treble and bass knobs! It was capable of everything from light overdrive to full on fuzz distortion, on par with the Fuzz Face.
One of David Gilmour's original Colorsound Power Boosts. This is one of the later production without the "Hit It" arrow graphic, circa 1972
An original Colorsound Power Boost with 18v circuit from 1969-70
David used the 18v Power Boost from 1972 to late 1977 and it is the primary overdrive used on the albums Obscured by Clouds, Wish You Were Here and Animals. Although David owned a Power Boost in 1972 there is no documentation of him using it for the recording of Dark Side of the Moon, but one can be seen in the '72 photos of the Obscured by Clouds recording sessions and and it can be seen on stage beside David's Fuzz Face in 1972, so it was most likely used in the DSOTM sessions as well. I think it may have been used in conjunction with the Fuzz Face for the Time and Money solos from DSOTM, and I hear it in Brain Damage and the early mixes of Eclipse. You can even hear David using what I beleive is the Power Boost in the studio clip of him playing fills for Brain Damage on his Lewis guitar from the Pink Floyd Live at Pompeii film.
Two other key ingredients to the DSOTM guitar tones were modulation and echo delay. For modulation David used a Univox Uni-Vibe and two different types of rotating speaker cabinets, a RO-1 Mastero Rover and a Leslie speaker cabinet. It sounds like a rotary speakers were used on Us and Them, Brain Damage and Eclipse, but there is no documentation to indicate which one. Brain Damage and Eclipse sound like a Leslie to me. Us and Them does not have the Leslie sound to my ears, so I think that was the Rover.
The Leslie David used was most likely a 147, which is the type he used on the DSOTM tour. A 40-watt tube amplifier splits the sound frequency to high and lows, driving a compression driver and a 15" woofer inside the Leslie cabinet, but the Leslie does not actually have rotating speakers. It has a rotating plastic treble horn in the upper part of the cabinet for the high frequencies and a fixed bass speaker pointing down into a rotating bass rotor in the lower cabinet for the lower frequncies. The horn looks like two horns facing opposite each other but only one emits sound. The other is to balance the horn when it rotates. The bass rotor is a spinning drum baffle, with one side of the drum open to reflect the sound from the speaker off the baffle as it turns. It is covered with a thin cloth on the sides. As the horn and bass rotor spin, they create a vibratto-like spacial doppler effect, where the sound appears to be going away and coming back to you with each rotation. It is sort of like a tremolo, vibratto, and chorus effect all-in-one. There is a speed control to set the effect to a fast or slow speed. David typically used a slow speed.
A Leslie 147 cabinet and interior with spinning treble horn in upper cabinet and bass rotor in the bottom
(left) Leslie rotating treble horn and (right) rotating bass rotor baffle
The RO-1 Rover was one of David's favorite rotary effects. It actually has a rotating speaker inside. The RO-1 was made by Gibson in 1972 and had an adjustable speed knob, a built in amplifier, and a single 6" 35w speaker inside that spun on an axle. It created the warbly doppler sound effect, but not the high treble horn effect like the Leslie. Unlike the fixed speeds on the Leslie, the Rover speed control was adjustable from zero to twenty revolutions per second. It was adjusted using a foot pedal. About 3/4 of the drum-shaped cabinet was open. A switch on the Rover allowed the option of routing only the higher frequencies through the rotating speaker and lower frequencies to a regular amp, but it is not known if David did this.
A 1970s Maestro Rover RO-1 rotating speaker cabinet, which the Doppolas were based on.
..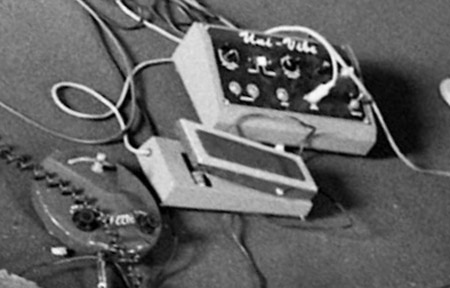 (left) Univix Uni-Vibe and speed control pedal (right) David's Uni-Vibe and Fuzz Face from 1972
The Univox Uni-Vibe effect pedal David used was supposedly invented to simulate a Leslie type rotating speaker cabinet, but the designer said he thinks he was actually trying to simulate the way distant radio stations faded in and out. Regardless, the Uni-Vibe really had its own unique phased-chorus rotary sound, different from the Leslie. It was actually a four-stage phaser invented by Japanese engineer Fumio Mieda in the mid 1960s and manufactured by Shin-ei for Univox to distribute. It was a signature sound for several well known guitarists like Jimi Hendrix and Robin Trower. The Uni-vibe was definitely used for Breathe. The track sheet notes from the recording sessions seem to indicate that David may have used both a rotating speaker cabinet and the Uni-Vibe for Breath and Us and Them but I only hear the rotary speaker in Us and Them. Both effects were also used for the 1973 Dark Side of the Moon tour.
EMS Synthi Hi Fli effect processor. The Hi Fli circled in yellow was used for the Dark Side of the Moon tour.
David's Bison Echorec can also be seen on top of his amplifier stack
David also had an EMS Synthi Hi Fli effects processor, which creates phase, ring modulation, and other effects. David Cockerell, who designed the EMS VCS 3, also designed the hi Fli for EMS in 1971. Cockerell went on to design the Electric Mistress for Electro-Harmonix, which became one of David's favorite pedals. David owned two of ten rare pre-production prototype versions of the Synthi Hi Fl made in 1972, with slightly different controls than the later production version. They included two footpedals that could control the slider functions as an expression pedal. It was a very versatile analog multi-effects processor, housing a variety of effects in use for guitars at the time:
Top Boost Switch - boosts the high frequncies of the signal going to the octave and fuzz sections

OCTAVE SHIFT SECTION
Decay Rate Knob - controled the speed the fuzz effect comes on with the initial pick attack. I think David used this when performing live.
Fuzz Switch - A fuzz type coloration effect to the octave effect
Buzz Switch - a sub octave effect that added a top end buzz to the signal
Up/Down switch - moving this fader down brongs the octave pitch down and moving it up brings the octave pitch up
Level - controls the level of signal passing through the octave effec

FUZZ SECTION
Attack Rate Knob - sets the fuzz attack/bloom rate
Fuzz Level Slider - Set the level of upper harmonics to the fuzz effect

TRIGGER SECTION
Solo/Strum Knob - sets the attack/decay time
Bypass Slider - blends the effect and dry signals

PHASE MODULATION SECTION
Types of Modulation
Vibrato - a Uni-vibe type effect
Phaser 1/Phaser 2 - a 6 stages or 12 stage phaser - I think David used this for the Time solo in some performances
Waa - uses each half of the phaser in parallel or opposite
Waw - a wah-wah type effect
Meow - another wah type effect

Modulation Control - rotary switch that cycled between six different waveforms. Slow Modulation range, Fast Modulation range, Rising Mod envelope, Falling Mod envelope, Rising Ramp, and Falling Ramp.

Modulation Effect Controls
Vibrato Speed
Attack/decay rate
Effect Depth
Direct Shift
It was thought the Hi-Fli may have been used for Any Colour You Like, but David said in a 1982 interview that he actually used a Uni-Vibe for that. What I think David actually used the Hi Fli for was for its fuzz effect and modulation attack/decay controls, especially for the live performances of Dark Side of the Moon in 1972-73. It is not known if he actually used one for the DSOTM studio recordings.
As I recall, he (David) used a Hiwatt stack and a Binson Echorec for delays. David was very much in control of his sound system We rarely added effects to his guitar in the control room. Generally speaking, the sound on the album is pretty much what came out of his amp. - engineer Alan Parsons, on the 1973 Dark Side of the Moon sessions
For delay David used Binson Echorec analog delays, which were capable of delay times around 300-380ms, although there are longer delays featured on the album that were created in the mixing stage. David was a heavy user of the Binson Echorec from his early days with Pink Floyd in 1969 until the late 1970s. The Echorec was an old school mechanical delay that utilized a spinning drum disk wrapped in magnetic recording wire rather than magnetic tape. It was surrounded by a record head and four playback heads that gave it a wide range of double-tapped delay sounds. It also had had a rich and warm-sounding tube amplifier stage that gave it a beautiful and unique tone.
A few of of David Gilmour's Binson Echorec 2 model T7E delays with the playback mode switch in position 1, which is singe playback Head 1
David used various Echorec models but he was most known for using the Echorec 2 model T7E. The motor had a fixed speed so one turn of the drum equated to approximately a 300ms delay, but that could vary slightly depending on mains voltage, and volatage fluctuations. David bought an Echorec PE 603 model in 1971 that had a maximum delay time of around 377-380ms. It was used for the early live version of On the Run in 1972, the third Money solo, and used on Pink Floyd tours until 1975.
The Echorec 2 had six knobs - INPUT CONTROL (volume), LENGTH OF SWELL (number of repeats), VOLUME OF SWELL (volume of repeats), BASS/TREBLE (tone knob for the repeats), a three position SELECTOR knob, and a SWITCH knob that selected various combinations of the four playback heads. The SELECTOR knob had three positions: ECHO = one repeat, REPEAT = more than one repeat, and SWELL = outputs of the playback heads were fed back to themselves to create a spacey type of reverb effect. The PE 603 Echorec had similar controls, but rather than having a switch to select different combinations of the four playback heads, it had individual buttons for each head.
Vintage Binson Echorec II. Right photo shows the top removed from the Echorec to display the recorder tape drum and tape heads.
The Binson delay time averaged around 310ms, but there are longer dleays on DSOTM that were created in the mixing stage.
Gilmour's Binson Echorec 2 and Echorec PE 603 stacked on top of his Hiwatts from 1973,
and a Binson Echorec PE 603 like the one Gilmour used from 1971-74 in his live rigs
There is a misconception that David always used the Echorec for its multi-head function, but in reality he primarily used it in single playback head mode, just like any other typical delay. He did sometimes use the Swell mode. One of the only audible examples of the multi heads in use in a Pink Floyd studio recording is the intro to the song Time from Dark Side of the Moon. There are numerous modern delays that try to replicate this multi-head delay sound, like the Catalinbread Echorec, Strymon Volante, and Boonar Multi-Head Drum Echo from Dawner Prince Electronics, which David himself has used.
David Gilmours Black 1969 Fender Stratocaster and his custom made 1970 Bill Lewis 24 fret guitar used for the Money solo
For guitars, David used a 1969 Fender Stratocaster (the famed Black Strat) with a 1963 rosewood neck, a 1970 Bill Lewis 24 fret custom guitar (used on the Money solo, and other tracks), and possibly a Fender 1000 pedal steel slide guitar that David acquired in 1968 at a pawn shop in Seattle, Washington. David thinks he used the pedal steel in the Dark Side sessions and has commented that he never used the pedals on it. Roger Waters' recollection is that David actually used a Strat on his lap to play the slide parts in the studio for DSOTM. David is seen doing this a few years earlier in the Pink Floyd Live at Pompeii film.
Gilmour recording with his Fender silverface Twin Reverb for the Dark Side of the Moon recording sessions in early 1973 (from Pink Floyd: Live at Pompeii)
In the recording studio at the time David had a Fender Twin Reverb siverface 100w amp, his trusty Hiwatt DR103 100w amp heads, and WEM Super Starfinder cabinets loaded with Fane Crescendo speakers. These are two very good amplifiers that are very loud, yet very clean sounding with lots of head room. It is not known which amps were actually used for the stuio recordings, but engineer Alan Parsons has stated that he only remembers David using Hiwatt heads and cabs in the studio. When asked what he used in a 1993 Guitar World interview David Gilmour said, "I imagine it was a Hiwatt, but I'm not too certain. I used Fender Twin Reverbs in the studio a lot, too". Overall, I get best results matching the Fuzz Face tones with my Fender Twin Reverb.