Last update June 2014. NOTE: This website is constantly updated as new information becomes available. Version, Edition, and Revision numbers listed here are not actual Electro-Harmonix identifiers. They are my categorizations, for identification purposes only. Permission required to repost any information from this site in any ebay listing. Website and contents ©Kit Rae
THE NANO BIG MUFF π - VERSION 10A
Released December 2013
Designers: Based on original Bob Myer design
Edition Versions: NA
PCB Numbers: EC-D107 Rev A
Circuit Variants: NA
True Bypass: Yes
Power: 9-Volt battery or optional 9V power supply from Electro-Harmonix, 9.6DC-200BI (same as used by Boss™ & Ibanez™) 9.6 Volts DC.
Packaging: Corrugated cardboard box
Place of Manufacture: Assembled and tested in Long Island City, New York, USA
The nano sized Big Muff Pi was released in November 2013. Packed into the standard pedalboard friendly EHX nano sized enclosure, this version is the smallest BMP to date. Similar sound to the large box classic NYC Big Muff Pi, and the XO style medium sized Big Muff Pi (versions 9 and 10). The circuit uses normal through-hole style transistors, capacitors, and diodes. Resistors are small surface mount style, to allow for the smaller circuit board.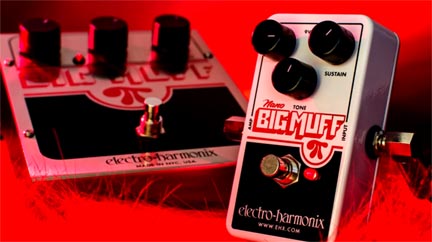 Shown above - The 2013 Nano Big Muff Pi
Shown above - EC-D107 Rev A Circuit
---
DELUXE BIG MUFF π - VERSION 10B
Released 2014
Designers: John Pisani and Gino Maisano (core BMP circuit based on original Bob Myer design)
PCB Numbers: EC-D100 Rev. A (prototype), EC-D100 Rev. B (production model)
True Bypass: Yes
Power: Current draw approximately 22mA at 9VDC. Runs off a 9-Volt battery or optional 9V power supply from Electro-Harmonix, 9.6DC-200BI (same as used by Boss™ & Ibanez™) 9.6 Volts DC.
Packaging: Corrugated cardboard box
Place of Manufacture: Assembled and tested in Long Island City, New York, USA
The Deluxe Big Muff Pi is, simply put, the most versatile Big Muff EHX has ever put on the market. The primary "deluxe" feature of this version is the midrange section, which was a long time coming. The biggest complaint about the classic Big Muff Pi is that it can get lost in band mix because of the midrange scoop. In other words, it lacks mids, but that is what gives the Big Muff its trademark sound. Without a mid range control however, the Big Muff is very hard to make work with certain amps and in certain types of band mixes. I have never had an issue with it myself, but it is a common complaint I have heard for many years. Even well known Big Muff users, like Billy Corgan of Smashing Pumpkins, stopped using the Big Muff for live gigs because it was too difficult to hear himself playing against the other instruments occupying the same sound frequencies.
Shown above - The 2014 Deluxe Big Muff Pi marketing images from May 2014
Since its beginning back in 1969, the Big Muff Pi has gone through many circuit variants, some having slightly different mid frequencies than others, but all having a scooped mids sound. The Tone Bypass feature added in the late 1970's gave players the option of bypassing the tone section completely, but it also made it sound like something other than a Big Muff. Beginning around 2004 some of the hand made boutique Big Muff clones and variants began offering mid range switches and knobs to address this issue (Ronsound Hair Pie, Way Huge Swollen Pickle, BYOC Large Beaver, Skreddy Pedals Pink Flesh, Earthquaker Devices Hoof, Basic Audio Tri Ram, Mojohand FX Iron Bell, et cetera), and for nearly 10 years people had been wondering when EHX was going to add this feature. The Tone Wicker Big Muff addressed this issue somewhat with its wicker circuit in 2009, and while the TWBM was successful and definitely made the sound jump out in a band mix, users were still waiting for that Big Muff with a true mid range control. Another wish from users was for a Big Muff or reissue that replicated the sound of an early Triangle or Ram's Head Big Muff. This new version of the Deluxe Big Muff covers both of those requests.
DEVELOPMENT - In early 2012 Mike Matthews told me he was interested in revisiting the best sounding Big Muffs of the old days, possibly for a Triangle reissue. He indicated he really liked several of the early perf board versions. I had traced the circuits of those and some other later Triangle Big Muffs from my collection that I thought sounded really good, so I excitedly passed those along if they would help in any way. Later that year John Pisani, senior engineer at EHX, indicated that what they had decided to make was a new Deluxe Big Muff. This would not be a reissue of the old late 1970s Deluxe, but would be something new, and opinions were being taken about which features to include. I sent along my wish list, based on what I had been hearing from the collectors and users throughout the years, and my own wants. #1 on my list was a mids control (also #1 on the list at EHX), as well as a high/low EQ switch, and a number of other common BMP mods and schematics that I liked. I suggested they not bother with the old Tone Bypass feature, something I never cared for. This is just my opinion, but the tone circuit is what makes a Big Muff sound like a Big Muff. If you don't like that and want to bypass it so it sounds like a typical distortion box, you probably don't really need a Big Muff, you need something else. I would rather have controls that enhance the Big Muff sound rather than remove it.
Shown above - The Deluxe Big Muff Pi serial #1 prototype, now a part of The Big Muff Page collection
After a few false starts, in late 2013 the EHX engineering department had the features worked out for the DBM and were close to a finished pedal that they intended to put into production. EHX engineers John Pisani and Gino Maisano designed all the new deluxe features and controls. I had seen the final features list, so I knew they had worked up something much different than the simple passive mid range control ideas I had sent them, which were basically all the same simple variations the modders and boutique makers had been adding. According to John, they had researched those MID EQ ideas, plus a few others that people had created for Big Muffs, but they did not think a passive mid control like those would do the trick for the DBM. It needed something with much more kick, an eq that could both boost or cut nicely, with more control than the simple mids pots and switches used by the cloners and modders. They took the MID EQ circuit found in the EHX Metal Muff as a starting point, and reworked it so it had more range and control. After creating the first working prototype they decided it would be nice to have the option of sweeping the frequency knob of the MID EQ with an expression pedal so they converted the circuit to work with opto-couplers. Finding that the normal Q, or resonance, setting of the MID EQ was not enough when using an expression pedal, they added a switch to filter in more of the high frequencies, which became the Q switch. Alternating between LOW (normal) and HIGH modes, the Q switch also added another range of tonal selection, making the sound even more versatile.
Rounding out the features were a BASS BOOST, ATTACK, and GATE function. The BASS BOOST switch and GATE knob were similar to the boost and noise gate on the just released Deluxe Bass Big Muff. For the ATTACK control, it was debated whether they should just use the Wicker mode from Tone Wicker Big Muff or something more dramatic. Mike Matthews suggested they try the filtered expander from the Steel Leather (a bass expander pedal from EHX). With a bit of tweaking that is what the ATTACK function became, something that enhanced the pick attack by filtering the dry signal.
In early 2014 Mike Mathews leaked to the Tone Report that the new Deluxe Big Muff Pi was coming soon. I was getting more and more excited as time went on, not only because this was the first major enhancement to the Big Muff circuit since the last Deluxe Big Muff in the late 1970s, but also because of the possibility of a new range of sound options from a pedal I had been obsessed with for so many years. In March a package arrived at my door from EHX. Inside was the Deluxe Big Muff serial #1 prototype (thanks Mike!) to test drive. Being a product designer myself (knives, swords, tactical weapons), I always prepare for some initial disappointment of a first prototype from a manufacturer by not expecting too much, but it was hard not to get excited about this. I am happy to report that nothing about the DBM disappointed.
GRAPHICS AND ENCLOSURE - The enclosure is 4.75 (h) x 5.75 (w) x 1.5-inch (d), cast metal two piece box with four screws on the bottom plate and four rubber pads. The DBM graphics are in line with the trend of near full color graphic design used for most EHX enclosures at this time, featuring the classic red/black/white Big Muff Pi color scheme and same traditional ITC Pioneer font as used on previous Big Muffs.
CONTROLS / KNOBS / SWITCHES - These are all of the specific controls, including the built in trim pots inside the pedal. The trim pot settings set at the factory may not be to everyone's liking, but I suggest you read the Instructions Manual before adjusting these.
CONTROLS
Classic VOLUME, TONE, and SUSTAIN control knobs, same as the Big Muff Pi classic, Little Big Muff, and Nano Big Muff

BYPASS foot switch - standard foot switch with true bypass

ATTACK control knob - adds brightness and clarity when the sustain is dialed down (12:00 or less) by running the dry signal through an expander circuit

GATE control knob - noise gate to eliminate high gain hiss noise or hum. This is more for power chords with hard starts/stops, or for staccato playing. Not for for medium gain playing where you want the notes or chords to naturally trail off or decay, as they will be cut off.

BASS BOOST switch - volume boost of the low frequencies
MIDS SECTION CONTROLS
MIDS foot switch - activates the midrange circuit, which includes the Q switch, LEVEL, and FREQ control knobs, as well as the expression pedal function. The midrange circuit is only active when the bypass footswitch is engaged, so the midrange circuit will not affect your clean tone when in bypass mode.

Q Switch - Switches the midrange circuit into LOW or HIGH bandwidth. LOW position covers a wide midrange spectrum. HIGH narrows the bandwidth more into the higher frequencies.

LEVEL - boosts or cuts the midrange frequency set by the FREQ knob by +/- 10dB. 12:00 position sets a flat midrange, turning left cuts mids, turning right boosts mids

FREQ - adjusts the midrange frequency sweep from 310Hz to 5.0kHz

. Switching the Q switch in HIGH or LOW modes determines the bandwidth the FREQ knob uses.

EXP jack - same midrange frequency control as the FREQ knob, but allows it to be controlled by an external expression pedal for wah wah type effects.
INTERNAL TRIM POTS (refer to the Instructions Manual before adjusting these)
1 - High Q bandwidth - HIGH Q mode is set to be very resonant but not to self-oscillate
2 - High Q Output Volume - HIGH Q mode is set slightly louder than LOW Q mode
3 - MIDS EQ Output Volume - when engaged, the MIDS EQ creates a slight volume boost over MIDS EQ bypassed for most MIDS knob settings
CIRCUIT - The core Big Muff section of the circuit circuit is the same as the classic Big Muff Pi circuit found in the Big Muff Pi classic, Little Big Muff, and Nano Big Muff. It is built with normal through-hole style transistors, capacitors, and diodes. Transistors are BC550. Resistors are small surface mount style.
THE SOUND - The Deluxe Big Muff has 7 knobs, 2 toggle switches, and two foot switches, plus an expression jack. That may seem daunting to the non knob-fiddler musicians out there, but I look at these as more of a set of fine tuning options. You can find the exact tone you want and leave it, or for those that like to experiment with their tone constantly, this can be a veritable fuzz lab. It only took 20 or 30 minutes of playing for me to get a good grasp of the controls, and to realize EHX had built the most versatile BMP ever made.
The midrange controls on the DBM are the primary feature, and are probably better than any mids knob on any hand made BMP I have ever played. Not only do these midrange controls surpass practically anything that has come before, but you can now make a Big Muff sound good on just about any amplifier. It does take some time to understand the relationship between the LEVEL and FREQ knobs, so to start, I suggest setting the basic controls (VOLUME, TONE, SUSTAIN) to a decent sound, switch the MIDS section on, and focus only on the LEVEL and FREQ knobs. Ignore the other controls until later. Using the MID EQ circuit, combined with the standard BMP tone control and the bass boost, it is now possible to closely replicate most of the classic Triangle, Ram's Head, and Sovtek Big Muff sounds, as well as dial in the classic Big Muff sounds of David Gilmour (Pink Floyd), Billy Corgan (Smashing Pumpkins), Jack White (White Stripes), and the early Dan Auerbach tones (Black Keys), all on one pedal. I was also able to dial in a host of Fuzz Face and Tone Bender style tones that were not possible with the previous Electro-Harmonix BMP circuits.
The core sound is basically the classic NYC Big Muff Pi, but that is just the foundation. There is a foot switch to turn the MID EQ section on and off, so you can kick it on for a unique lead tone, or just to have a different rhythm sound than the standard Big Muff tone. You can also adjust the mids frequency on the fly using the expression pedal jack, similar to a wah wah pedal, yet different. The BASS BOOST is exactly that, a boost for the bass, allowing you to get into the some of the bass heavy Triangle and Sovtek Big Muff sounds. The GATE is the same as on the Deluxe Bass Big Muff, and addresses the issue of the added noise the BMP creates as you increase the sustain level, something inherent to the original circuit design. This is a very good noise gate, but as with most gates, its not something you want to use for melodic solos or sustained chords, where you want some notes to decay and trail off naturally. The sustained notes will cut off after they drop to a certain level, even on the lowest setting. This is more intended to work for high gain power chords, riffs, and staccato playing, and as a cutoff when you stop playing.
Initially I thought the he ATTACK knob was the only weak point on the DBM, as I had hoped for a high gain filter or boost control, something to take the sound a bit over the top like the Tone Wicker, or an emitter resistor lift, or diode lift switch. After using it for a while I realized the ATTACK function addressed another issue with the traditional Big Muff - muddiness when the sustain is dialed to very low settings. The ATTACK knob adds some sharpness and clarity to individual notes and chords. For low gain rhythm or overdrive sounds, it is a welcome addition.
I tried matching the DBM tone to the tone of a few of my favorite Big Muffs from the past, like a '71 Triangle, a Sovtek Civil War, a couple of different '73 Ram's Heads, and a late '70s V6. I can get pretty close to all of them, some maybe 80% the same, some so close I can barely tell them apart. And yes, the V4 (Smashing Pumpkins) op-amp Big Muff sound can be dialed in on the DBM as well. I was also able to dial in nearly the same sound as many of the popular Big Muff clones, like the Cornish P-1, BYOC Large Beaver, Way Huge Swollen Pickle MkII, and Skreddy Pink Flesh. The DBM covers the full range well, from deep and dirty doom-and gloom, to smooth and bassy Sovtek, to very articulate, bright and creamy leads. My favorite Big Muff user is David Gilmour of Pink Floyd, so I spent much time trying settings to replicate his various tones, with very good success.
If more than three knobs is too intimidating for you to work with, and you prefer simplicity in function, this may not be the pedal for you and you should stay with a basic three knob model. There will always be cloners and boutique makers out there creating their own versions of the BMP circuit, and I have a large collection of them myself, but at an average street retail of under $120, it is hard to beat the DBM when it can match the sound of many (not all) of those pedals, with the bonus of the added versatility. As the EHX tag line reads, Let Them Eat Pi. While the ability to replicate the sounds of older Big Muffs, clones, and certain guitarist's tones will make many musicians happy, especially those on a tight budget, I found it more interesting exploring and creating new tones with the DBM that can't be found on anything that has come before.
FAVORITE SETTINGS TEMPLATE - Below (left) is a template to record your DBM settings, and below (right) is a link to a page of settings. The settings page will include my own favorite settings, settings that replicate some of the classic Big Muffs of the past, and some of the popular clones. More will be added over time. Feel free to share your favorites. Click the image below (left) for a .pdf version of the template, or click here for a .jpg version.
Shown above - My demo of the DBM
Shown above - The 2014 Deluxe Big Muff Pi
---
NANO BASS BIG MUFF

π

- VERSION 11B
Released 2014
Designers: Based on original Bob Myer design
Edition Versions: NA
PCB Numbers: NA
Circuit Variants: NA
True Bypass: Yes
Power: 9-Volt battery or optional 9V power supply from Electro-Harmonix, 9.6DC-200BI (same as used by Boss™ & Ibanez™) 9.6 Volts DC.
Packaging: Corrugated cardboard box
Place of Manufacture: Assembled and tested in Long Island City, New York, USA
Announced in May 2014. The Bass Big Muff packed into the standard, pedalboard friendly EHX nano sized enclosure. Similar sound to the XO sized Bass Big Muff (version 11), which was based on the Russian Big Muff sound. The only difference between the original BBM and this Nano version is that it does not include the bass boost toggle switch mode.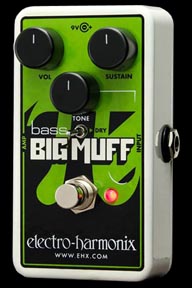 GRAPHICS AND ENCLOSURE - Small nano sized enclosure, same as all nano series pedals. Traditional ITC Pioneer font as used on previous Big Muffs, with green/white/black graphics, adn traditional Pi mathematical symbol.
CONTROLS / KNOBS / SWITCHES - Standard volume, tone, and sustain cotrols as the original Bass Big Muff. Includes a DRY toggle switch, which changes the volume knob to a mix knob, allowing you to mix the dry signal with the BBM distortion circuit. The dry level remains constant and turning the knob clockwise increased the amount of distortion blended with it. The volume function is disabled when in DRY mode.
CIRCUIT - The circuit uses normal through-hole style transistors, capacitors, and diodes. Resistors are small surface mount style, to allow for the smaller circuit board.
HE SOUND - The sound, although not identical to the original Bass Big Muff, is very similar. It is in the Sovtek tone family, in that it has a heavy, fat, but smooth disortion. Slightly less gain than the classic Big Muffs, Little Big Muff, and Nano Big Muff. Although it is called a Bass Big Muff, it is a normal Big Muff circuit as you would use for guitar. The only bass central feature is the DRY toggle, but that also works very well with guitar. The reason it is called the Bass Big Muff is that many bass players liked to use the old Sovtek Big Muffs, and EHX also wanted to differentiate this more bassy sounding Big Muff from the standard models.
---
RELATED MUFFS
Coming soon.
MUFF INSPIRED PEDALS AND CLONES
There have been many vinatage Big Muff clones through the years and many pedals that were inspired by the Big Muff four stage circuit. Some are basically exact copies of a particular vintage Muff version, like the BYOC Large Beaver, which can be made in both the Ram's Head and a Traingle versions, and the Stomp Under Foot CWM Russian "Civil War" Big Muff clone. Other pedals have been inspired by the Muff circuit, but feature unique modifications and improvements, such as the Skreddy Pedals Pig Mine, Blackout Effectors Musket, and the Pete Cornish P-2. CLICK HERE for info and sound clips of several of these.