For my setups and sound clips CLICK HERE
..
....
..
..
The Wall studio album cover, Gilmour with his Black Strat in 1980, and the live Is There Anybody Out There? CD cover art
THE GUITAR TONES OF PINK FLOYD'S COMFORTABLY NUMB - Comfortably Numb is one of the stand out tracks from Pink Floyd's 1979 double album, The Wall, and one of the last great collaborations with his former band mate, Roger Waters. It has become a standard of classic rock radio, and a staple for Gilmour's Pink Floyd live concerts, as well as his solo concerts, and those of Waters. The two guitar solos by David Gilmour in the studio version of Comfortably Numb from Pink Floyd's The Wall album are among the finest examples of guitar soloing in rock history. The guitar tone is considered by many, including me, to be one of the most incredible tones ever put on record. Numerous guitarists have cited those solos as the reason they took up playing the guitar. This song also what originally inspired me to learn to play guitar, and what got me hooked on Pink Floyd in the first place. Suffice it to say, this website and BigMuffPage.com would not exist if it were not for that song.
Gilmour's first solo is elegantly composed and fluidly dances around the chord progression of the chorus. The second solo is a tour de force of David Gilmour's incredible blues based playing and songwriting that takes you on an emotional journey - considered by many to be his finest solo. This article is all about how that tone was created, how to create a similar tone in your own rig, and detailed information about the writing and recording of the song. There is very little documentation about the the 1979 recording sessions or the exact geart used for The Wall, but there is some information about this song, and the rest can be extrapolated from the known gear David was using prior to and after The Wall. There is also a good article about all The Wall studio and live gear over at Gilmourish.com.
Below are reference sound clips from the official release versions on CN. It is well worth purchasing each of these Pink Floyd albums and DVDs just to have every official release version of Comfortably Numb, as all are very different.
FIRST SOLO - from The Wall studio album 1979. I have a page with clips about the first solo "wet" tone and modulation here.

OUTRO SOLO - From The Wall remixed and expanded. Same as the studio album, but slightly longer and with slightly heavier modulation from David's RA-200 rotary speaker cabinet

OUTRO SOLO - From Is There Anybody Out There?, live performances from 1980-1981 (released in 2000)

OUTRO SOLO - From The Delicate Sound of Thunder, live performances from 1987-1988

OUTRO SOLO - From Pulse, live performance from 1994
Gilmour's Black Fender Stratocaster - 1969 body with Charvel 21 fret custom maple neck and DiMarzi FS-1 bridge pickup used for The Wall studio recordings
THE GUITAR - According to David and his backline tech, Phil Taylor, he used his famous Black Strat for the Comfortably Numb solos on The Wall recordings and in the original live concerts. It was a late '60s model strat with an alder body and a 21 fret maple neck. It was fitted with a DiMarzio FS-1 bridge pickup and stock Fender neck and bridge pickups. The FS-1 was a rather hot sounding pickup and gives the distortion in the solos a nice clarity.
Its probably been on more Pink Floyd tracks than any other guitar. The neck's changed a few times, as I used it as a sort of test bed for all sorts of things. It's on 'Money,' it's on 'Comfortably Numb' - the solos on 'Comfortably Numb' - it's on 'Shine on You Crazy Diamond.' The four-note bit at the beginning of 'Shine On' fell out of that guitar one day. - David Gilmour in 2019
One of David's Custom Hiwatt 100/DR103 amplifiers and a WEM Starfinder Super 200 4x12 speaker cabinet loaded with Fane Crescendo 12A speakers
THE AMPLIFIERS AND SPEAKER CABINETS - Although David was known for using high powered Hiwatt amps and Leslie type rotary speaker cabinets in his live rig, in a 1979 interveiw just prior to recording The Wall, David said he used smaller amps in the studio, usually a Fender Twin Reverb or a Mesa Boogie amp. However, according to various sources, including The Wall producer Bob Ezrin, the Comfortably Numb solos were recorded with a Hiwatt setup similar to his live rig. He played through a combination of two 100 watt Hiwatt DR103 heads into WEM Super Starfinder 4x12 speaker cabinets loaded with Fane Crescendo speakers, and an Alembic F-2B preamp (Fender Dual Showman/Twin Reverb style preamp) running into two Yamaha RA-200 rotating speaker cabinets. Each was miked independently and mixed together in stereo. David had just used a two-Hiwatt/two-Yamaha rig prior to this for the Animals 1977 tour. He also used Hiwatts and Yamahas for his 1978 solo record.
David Gilmour's classic guitar solo on "Comfortably Numb was cut using a combination of the guitarist's Hiwatt amps and Yamaha rotating speaker cabinets - The Wall producer Bob Ezrin
The RA-200 was a combo amplifier with a 100 watts powering three rotating speakers in the top of the cabinet, and 200 watts powering four 12" speakers in the bottom. I can only use either the rotary or the 4x12 independently in my older model RA-200, not both at the same time. Other RA-200 owners have told me their units switch between the rotary speakers or the rotary+4x12. I think David's RA-200s likely worked that way as well, but he was using these primarily for the rotating speaker effect, which a warm and lush modulation to his tone. The RA-200 sound was different from a Leslie rotary sound. Leslies use a rotating horn for the high speaker, and a rotating baffle for the low speaker, creating a doppler 'rise and fall' effect as each rotated. The Yamaha had three identical rotating speakers, and while each rotated at the same speed with an adjustable speed control, the three speakers were out of sync, so the rise and fall of the doppler effect was more random than a Leslie. An approximation of the sound in an effect pedal is something like an Electro-Harmonix Deluxe Electric Mistress mixed with a Boss CE-2 chorus and a Boss RT-200 rotary speaker simulator, although no pedal sounds quite like standing in front of an RA-200.
Shown above (left) David Gilmour's 2016 tour pedal board with his original 1974 Big Muff, with red LED added and DG ORIGINAL label.
(middle) Another Cornish modified Big Muff displayed at Pink Floyd's Their Mortal Remains exhibition in 2017.
(right) Electro Harmonix Ram's Head Big Muff reissue, a sonic replica of a vintage 1973 V2 "violet" Big Muff.
THE BIG MUFF - At the core of this tone is David's original "Ram's Head" Big Muff, also known as a V2 Big Muff. There are many theories about exactly how this tone was achieved in the studio, but there is no doubt that the primary element for the tone is the Big Muff. I have a huge section about Big Muffs HERE, and details on Gilmour's Ram's Head HERE. Phil Taylor, David Gilmour's guitar and gear tech, had this to say about David's Ram's Head Muff -
I introduced David to the Electro-Harmonix Big Muff Pi in 1974. He liked it, and he has continued to use one ever since. David has tried many of the different incarnations and models over the years, but his original has often been preferred for most things. Finding another that sounds the same is not easy, I have even placed six in a row that externally appeared to be identical to his original, and they all sounded different. Often, when you look inside, some components and values are different... Phil Taylor - David Gilmour's backline tech
BOOST? - For the studio version, the Big Muff may have been blended/boosted by a Mesa/Boogie Mark I used as an overdrive, a Colorsound Power Boost or a Pete Cornish ST-2 treble/bass booster, which is a modifed Colorsound Power Boost clone. David likely had all of those in the studio, but there is no way to know if he combined this with the Big Muff. The "boost" that I refer to here is not a volume boost, but more of a combination of the Big Muff and and an ovedrive, used to create a smoother or dirtier tone, depending on its position in the signal chain and settings. Here is a section about boosting Big Muffs.
Some sources say David used an Orange Treble & Bass booster for The Wall in 1979, including the comprehensive Fitch and Mahon book, Comfortably Numb. Orange was a small company making pedals in the early 1970s, but they never made a "treble & bass booster." This myth appears to be someone mistakenly interpreting Phil Taylor, Gilmour's gear tech, stating that David used an "orange treble and bass booster" in 1979. That was just a literal description of the Colorsound Power Boost , which was a bright orange colored treble and bass booster made by Sola Sound in the early 1970s. David had been using one since 1972. Some sources say that David had Pete Cornish replace the Power Boost, with the Cornish ST-2 (a refined Power Boost clone) in his Cornish custom effects board just prior to The Wall recordings. My opinion is that no booster was used with the Big Muff.
(left) David's Yamaha RA-200 rotary speaker cabinet, and (right) the three rotating speakers in the top of the RA-200
THE MODULATED TONE - Modulations are effects that modify your guitar signal by passing it through filters that double, delay, or modify the waveform with some type of oscillation or frequency variation to create depth and space in your guitar tone. Chorus, phasers, flangers, tremolos, vibes, and rotating speakers are all types of modulation. The modulation you hear on the two Comfortably Numb solos is likely a mix of two different effects - an Electro-Harmonix Electric Mistress flanger and the Yamaha RA-200 rotary speaker cabinets. David used a similar setup for Pink Floyd's previous album, Animals, and for Roger Waters' follow up to The Wall, The Final Cut.
The three rotating speakers in the Yamaha produced a swirling, liquidy doppler effect that added space to the tone, similar to a flanger and chorus. Bob Ezrin, co-producer of The Wall, stated in 1993 that Comfortably Numb was indeed cut using a combination of the guitarist's Hiwatt amps and Yamaha rotating speaker cabinets, but there is practically no information about what other effects were used on the song. David had an 18v Electric Mistress flanger in his pedalboard used for recording The Wall, and I think I think he used it for the second CN solo. He used the Mistress on the 1977 Animals tour and on his first solo album in 1978, just prior to recording The Wall. He also used a Mistress for the live performances of The Wall, along with a Boss CE-2 chorus, and the Yamha RA-200.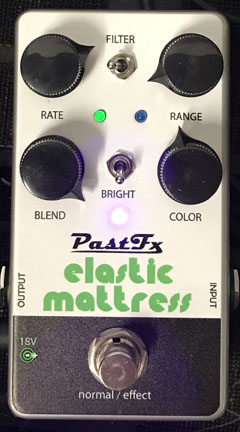 two of David's vintage 18v Electric Mistress flangers, and the Past FX Elastic Mattress flanger
The Mistress was among the first flanger effect pedals made, and it had a very unique sound. The original 18v version that was made from 1976-1981 is very rare and expensive due to the fact that the SAD 1024 BBD chip that was responsible for a big part of its sound is no longer made. There are modern sound-alike flangers that work very well to replicate the unique Mistress sound, like the Past FX Elastic Mattress and Retro Sonic Flanger. I have owned several original Mistresses and the Past FX is my favorite modern replica.
The modulation in The Wall live concerts was very dominant in the mix. It was a blend of the the Electric Mistress, Boss CE-2 chorus, and swirling Yamaha rotary speakers. Below is a live clip with that setup from 1980. The swirling Yamaha rotating speakers are very present in the tone, and very different from the studio version.
OUTRO SOLO - From The Wall live 2/28/1980
..
..
..
David performing Comfortably Numb high on top of the wall in one of the original live performances
.....
MXR Digital Delay System rack unit
DELAY - It is hard to hear a clear delay echo in the final studio mix of the song, but it is there. Listening to the dry track from the 5.1 surround mix, the delay appears to be 480 milliseconds long, with two or three repeats. If the delay was recorded live, it was likely mixed with the dry signal, or was simply sent to a separate "wet" amp when recording. The delay may have been added in post, at the mixing stage, but David usually recorded his delays live. He had a rack mounted MXR Digital Delay System 1 in the studio, which is likely what was used in the recording sessions. He also used one for The Wall live concerts. It is a very warm sounding delay, close in sound to David's Binson Echorec analog delay.
REVERB? - In a 1979 interview with David for Guitar Player just prior to recording The Wall it is stated "while it is often rumored that Gilmour dabbles in all manners of studio wizardry, he in fact does very little. He employs both close and far miking to achieve dimensionality in the sound. He views the production of a good guitar sound as a permanent struggle. He looks for a bright tone, but one which embodies a bottom also." Much of the big, ambient hall reverb sound in the song is thought to be studio magic at the mixing board, with compression, EQ, and reverb added later. I happen to think most of what you hear is what it sounded like when it was recorded. The 5.1 mix indicates the solo was recorded relatively dry up close to the cabinets, and also farther away to capture the large room sound. Some may think David used amp reverb, but It does not appear David ever recorded with spring reverb from an amplifier. Amp reverb tends to soak into and alter your tone, and it does not work well with a Big Muff for Gilmour tones in my experience.
THE PLAYING AND RECORDING - The first solo has some unique tonalities that make it difficult to determine which pickup on the Black Strat was used. Most of the notes sound like the bridge pickup on the Black Strat, but a few of the notes have the warm, bluesy tone of the neck pickup. Those notes literally sound like they were played on the neck, but it's not possible to switch back and forth multiple times from the bridge to the neck and play the solo at the same time. It is possible to get similar tonalities with just the bridge pickup by picking the specific neck-sounding notes directly over the neck pickup, although it is not exactly the same as the neck pickup sound.
the neck pickup mini toggle switch on the Black Strat
There is a theory that David used the mini toggle neck switch that was added to the Black Strat in December of 1977. The switch increased the range of possible pickup tones by allowing the neck pickup to be combined with the bridge or middle pickup when engaged. Some people think David used the neck+bridge for the solo, but you can't play the whole solo with just that combination either. There are subtle pick+thumb harmonics on many of the notes in the solo that are easy to play with the bridge pickup, but they are mostly lost with the neck+bridge combo because the two pickups together cancel out most of the harmonics. There is also an interview (Guitar Player January 2009) where David was asked if the neck mini-toggle switch was a staple part of his sound and recognizable on a lot of songs. He laughed and said no, he was not sure if he ever recorded with it.
As most guitarists know, David uses a lot of finger vibrato as well as the whammy bar, often at the same time. On the first solo of 'Comfortably Numb' he was exaggerating the effect quite dramatically. I asked if he thought it was too much and he replied, "No, I want it to sound drunk!" And there it was. - James Guthrie, producer/engineer on The Wall - Brain Damage 2013 interview

The first solo in Comfortably Numb was a first take - The Wall producer Bob Ezrin
I think David did something different to achieve the two different pickup tones in the studio recording. His standard way of recording most of his guitar solos was to record several different improvised takes, each recorded to a separate track. He would then pick the best parts from each and combine them into one solo, mixed down into one track, as he did with the second Comfortably Numb solo. The first CN solo was not written this way however. David wrote the whole solo in advance and learned it. It was was played nearly note-for-note the same in one of the early demos. David just re-recorded it for the final song. I have no confirmation of this, but what I think he did was record a take with the bridge pickup and then one with the neck pickup. Then parts from each were used for the final mix, which could be why we have what sounds like the brige pickup in some places, and the neck pickup in others.
The outro solo was mixed together from several takes recorded on a sixteen track recorder. The playing is very fiery, with some fast finger and whammy bar tremolo work in places, and some slight pinch harmonics that happen just at the right moments, all of which add to the intensity of the piece. The best parts of each take were combined into one solo, which was the typical way David created solos in the studio. David, and possibly engineer James Guthrie (various sources say one or the other), mixed them into one solo for the final version.
I just went out into the studio and banged out five or six solos. From there I just followed my usual procedure, which is to listen back to each solo and mark out bar lines, saying which bits are good. In other words, I make a chart, putting ticks and crosses on different bars as I count through: two ticks if it's really good, one tick if it's good and cross if it's no go. Then I just follow the chart, whipping one fader up, then another fader, jumping from phrase to phrase and trying to make a really nice solo all the way through. That's the way we did it on "Comfortably Numb". It wasn't that difficult. But sometimes you find yourself jumping from one note to another in an impossible way. Then you have to go to another place and find a transition that sounds more natural - David Gilmour from Guitar World 1993
In the beginning of the end solo of "Comfortably Numb" there's that note on the seventh fret of the G string - a big harmonic. I always try to start that solo with that sound and play that first line. It seems daft not to - David Gilmour from Guitarist magazine May 2006
Gilmour's touring "Ram's Head" V2 Big Muff and non-deluxe Electric Mistress in 1977, prior to recording The Wall
Gilmour's back stage rig for The Wall concerts including the Alembic F-2B preamp, MXR Digital Delay, Mesa Boogie MKI amp head used as an overdrive, and Hiwatt DR103 power amps with preamps disconnected.
Gilmour's back stage pedal board for The Wall, featuring a built in Big Muff.