October 2015
•THE BIG MUFF PI MODS AND TWEAKS PAGE - The Big Muff Mods and Tweaks page has been around since 2006. Created by Rogier Kerkhof of the Netherlands, it was a very user friendly list of how to make the most popular DIY mods for the Big Muff, and one of the first Big Muff circuit mod pages on the internet. I referred a lot of people to it over the years, but sadly it appears the hosting site has removed the page. I felt it was important to keep it alive on the internet so I recreated the page from an archive I kept, HERE.
July 2014
•BIG MUFF SHOOTOUT - NYC vs GREEN RUSSIAN/SOVTEK - Our friend JJ Tanis has done another excellent Big Muff demo, this time comparing the modern NYC BMP to the old green 'bubble font' Sovtek BMP, made in Russia.
•NEW PAGE ADDED TO THE BIG MUFF PI CIRCUIT SECTION - I added a few more BMP clone schematics to the The Evolution of the Big Muff Pi Circuit section and expanded to a fourth page. The new additions are the Colossus and Iron Bell.
May 2014
•NEW DELUXE BIG MUFF PI REVEALED! - An icon reimagined. It has been in the works for the past year, and now EHX has let it loose. The Deluxe Big Muff Pi will be shipping in late May. We have had the pleasure of testing a prototype (thanks Mike!) and are happy to report this is the most versatile Big Muff Pi ever made by EHX, and it sounds fantastic. EHX has finally added a long requested mid range tone shaping control and it is much better than the simple mid boost pots on the boutique Big Muffs. A host of other features round out this new version of the Deluxe Big Muff. A full review will be forthcoming. The official EHX page about the DBM is here.
•NANO BASS BIG MUFF COMING - Next in line for the EHX small sized nano line is the Bass Big Muff. More info coming soon, but here is a teaser photo.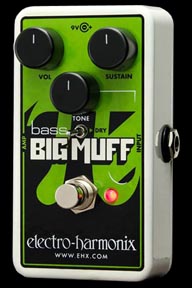 •BIG MUFF PAGE ON FACEBOOK - We have created a new Facebook page for the Big Muff Pi Page. We will post any Big Muff related videos, photos, or news updates there, and you can do the same! Or just converse about the BMP.
March 2014
•NEW REVERB.COM ARTICLE ABOUT THE BIG MUFF PAGE.COM - I occasionally get asked questions by writers doing articles on fuzz pedals or Big Muffs, but this is the first time I have ever been interviewed about The Big Muff Page website itself, as well as the hobby of documenting vintage gear. Read the full article Fuzzy Memories: A Profile of a Big Muff Master by Dustin Covert on Reverb.com. They also posted a new NYC Big Muff demo on youtube. Reverb is an online marketplace for musicians to buy and sell gear, but they also have a good series of vintage gear articles in their Gear History section.
•MIKE MATTHEWS INTERVIEW by TONE REPORT - EHX founder Mike Matthews chats with Tone Report about what's new with EHX, Big Muffs, Big Muff clones, and leaks the first mention of a new EHX project that is in the works, something I have known about for a few years now - a new version of the Deluxe Big Muff!
January 2014
•AXIS FUZZ WITH BIG MUFF PI TONE CONTROL - A Big Muff missing link? Pedal maker Jim Roth (of Built to Spill), also known as Jerms on the music forums, came across this oddity. It is an early hand made EHX Axis Fuzztone with point-to-point wiring and 1970 pot dates, but interestingly, the circuit is not an Axis Fuzz, but a Muff Fuzz with a Big Muff tone control. The Axis was made in 1968 and was probably discontinued sometime in 1969. The Muff Fuzz was made in 1969. Most examples of the Axis have a printed circuit board, so it is rare to see one with a point-to-point circuit. 1969 Muff Fuzz pedals and V1 Big Muffs circa 1969 were also made with point-to-point circuits, but this Axis has 1970 pot dates, indicating it was a later version of the circuit. This is the first time I have ever seen this version of the Axis, but another collector has informed me he used to own an identical one, so there may have been a sizable portion made this way. More of Jerms photos are shown on the wonderful Tone Machines blog.
November 2013
•EBAY AUCTIONS THAT QUOTE ME OR THIS WEBSITE - People email me for opinions or info about vintage Big Muff's they are selling or considering buying on ebay frequently, as well as buyers looking at an ebay auction. I usually refer them to the page on this website where they can find the pertinent info. So if you see something like "the leading authority on Big Muffs told me this is the best sounding of all the Ram's Heads, and only six were ever made!" (et cetra, et cetera), don't necessarily believe it. Sections of this website get do get copied into ebay auction descriptions (which I do not approve), or the auctions have links to The Big Muff page for more information (which I have no problem with). But be aware, I don't promote or have anything to do with what people are selling on ebay. I do occasionally get asked questions by a seller, then quoted in ebay auctions, but that is extrememly rare, and I have found that often what I said to the seller gets altered to make the pedal sound better or rarer than what it really is.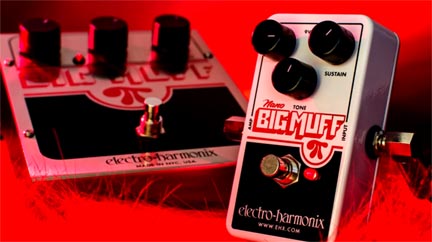 •NEW NANO BIG MUFF PI! - Just announced from Electro-Harmonix is a new Big Muff Pi in a nano enclosure. EHX says it works and sounds identical in every way to the classic NYC Big Muff Pi. No pricing yet, but the product should be shipping in December in time for Christmas. Here is Bill Rupert's demo.
July 2013
•DELUXE BASS BIG MUFF DEMOS - Bass legend Tony Levin demos the Deluxe Bass Big Muff! DrSmaggs also does and excellent demo of the DBBM that covers all features.
•MODERN NYC BIG MUFF DEMO (and history) AND GEARMANNDUDE DEMOS A TRIANGLE BIG MUFF - One of the better demos of the modern BMP by JJ. Covers all the territory, with a bit of history thrown in (someone has been reading the website :), with drawings. Greta job JJ! Also, Gearmanndude makes some noise through a vintage Triangle Big Muff.
---
---
---
---
May 2013
•NEW SOVTEK WIRING DIAGRAMS - V7C, V7D, and V8 diagrams are now posted. This should help those of you who have wire solders come loose, or those needing help with a repair. Diagrams can be found HERE.
March 2013
•SOVTEK FUZZ WARS Bass Guitar Shootout on Pedals and Effects.com - Weezer's Scott Shriner, Jonathan Hischke, and Juan Alderete demo three old tall font Sovteks and one Civil War Sovtek on bass guitar in this two part shootout.
•DEMOS of the ACETONE FM-3 FUZZ MASTER and ELK WAU SUSTAINAR - Two vintage Big Muff clones from the 1970's. Thanks to Jerms for posting these on the D.A.M. forum.
---
January 2013
•BLACK SOVTEK ENCLOSURES - Some recent emails have made me aware of confusion about the V7 and V8 enclosre differences, so these pix added to the V8 section should clarify.
---
December 2012
•WIRING DIAGRAMS - Something I have been meaning to do for quite a while is draw up some proper wiring diagrams for the 1907's Big Muffs. V2 and V3 diagrams are now posted. V1 and Russian diagrams will be coming soon. This should aid those of you who have wire solders come loose, or those that acquire broken Big Muffs that need repair. Diagrams can be found HERE. MERRY CHRISTMAS!
---
November 2012
• It was rumored earlier this year, and now EHX has confirmed it - The new Deluxe Bass Big Muff will be available in January! It is not only a stunning looking pedal, but chock full of many new features. Full specs are up on the Electro-Harmonix website.
• The Jen Jumbo Fuzz was an Italian made Big Muff clone from 1973. I recently acquired one of these odd pedals and traced the circuit. Jen and the Jumbo have an interesting history, and you can read the full article here.

• The Evolution of the Big Muff Pi Circuit - A new article for the technically minded Muff fans who are interested in the circuit. I have posted many schematics I have traced on the website of various vintage Big Muffs, but I thought it would be interesting to do an article discussing the changes in chronological order, and include many of the knockoffs and custom variants with some of the more unique changes to the circuit.
• Big Muff Pi Circuit Analysis on the Electro Smash website - A very in in depth analysis of the electrical functions of every stage of the BMP circuit by JR.
---
August 2012
• New schematic for the V6 Big Muff added to the V6 section.
July 2012
• New images and schematic for the most common version of the V3 Big Muff added to the V3 section.
• The March 1994 issue of Vintage Guitar Magazine contained an excellent article by effects guru Kevin Macy, called American Pi. At the time, this was one of the most comprehensive Big Muff Pi articles written, and one of the inspirations for this website. Although it was written in 1994, it focused solely on the vintage USA made Big Muff pedals, with barely a mention of the Russian made versions. Still, it is a very good, in depth article. Click on the image above to read the full article - used by permission of Vintage Guitar.
• The website will be down for a few days starting 7/21/12 as we transition to a new server. We hope to have everything back up and running by the end of the week.
---
June 2012
• ELECTRO-HARMONIX NYC HEADQUARTERS TOUR - Rebecca Dirks at Premier Guitar gets the tour of the EHX facility in New York City with EHX owner and CEO Mike Matthews. The tour focuses heavily on the assembly and testing of the Big Muff, as well as the R&D and other departments. Watch the video here.
• A few new schematics have been added to the V1 and e V2 sections of some of the other popular circuit variants of the big Muff from the 1970's, including both variants of the "violet" Big Muff.
• As part of a new project I am making a chronology of each of the circuit variants the Big Muff has gone through from 1969-1980, including tracking the knob changes and the chronology of pot dates. I am up to 12 V1 schematic variants, 17 V2 variants, and 7 V3's. All of them were likely made in long runs of hundreds to thousands, some much more common than others. I don't think there are many circuits that I have not seen multiple examples of now, but I'm sure a few have eluded me. The audible differences are very minor between many of these, so I am focusing on posting schematics that represent the ones that have significantly different sounds, and circuits that were the most common, made in very long runs. There are very few of these variants that I have only seen once or twice. I have seen numerous identical examples of almost every one, including some that I have counted seeing literally dozens and dozens of. It does not appear circuits were randomly assembled from whatever parts were laying around, as is the common thought of how EHX did things in the 1970's. The schematic changes were obviously driven by the bulk component purchases made by EHX and the specific parts values availble in those lots, but there seems to have been a well thought out logic to the circuit changes.
---
March 2012
• Skreddy Pedals P19 review now posted in the Big Muff Clones and Muff Inspired Pedals section.
• NEW BIG MUFF BUYERS GEAR GUIDE FROM GILMOURISH.COM - The excellent David Gilmour website Gilmourish.com has added yet another addition to its string articles about the Big Muff this year, written by Bjorn Riis of the band Airbag. The time it's a run down on the best Big Muffs and clones for that Gilmourish sound.
• Due to recent inquiries, I have added some more information about the correct AC adaptor to use with early V1, V2, and V3 Electro-Harmonix Big Muffs, and info about possible daisy chaining problems if you have a PNP Big Muff circuit.
• Tim at Tym Guitars has been posting an interesting series of blogs about his hand made Big Mudd pedals, recreations of various vintage Big Muffs , staring with the Tym Triangle Big Mudd. The Tym muffs cover nearly the whole range of vintage circuit variations and are definitely some of the best looking recreations out there.
---
February 2012
• A new schematic has been added to the V1 section. This time it is a circa 1971 Electro-Harmonix Traingle Big Muff. Out of the 10 or 11 circuit variations, this one was by far the most common version that appeared in the early 1970's Big Muffs. If any version could be singled out as a common and definitive "Triangle" sound, this would be it. It features all .1uF ceramic caps throughout, and the first use of the mysterious NPN FS36999 transistors, with the very rare long F mark.
• NEW BIG MUFF ARTICLES ON GILMOURISH.COM - The excellent David Gilmour website Gilmourish.com has recently run two very good articles on the Big Muff. In January the Big Muff Tribute article appeared. This is a must read for any Big Muff enthusiast, and anyone who has gone through the challenging experience of harnessing the Big Muff tone, and come out the other side taming the beast, and for those still trying. This month Gilmourish continued the Pi with The Big Muff-Tone Tutorial featuring set-up tips and sound clips. Both are very informative and valuable reads, so check them out. Written by Bjorn Riis of the band Airbag.
• THE PI - NEW PEDAL FROM STOMP UNDER FOOT - This month marks the release of a few new hand made Big Muff style pedals from a couple of our favorite makers. Stomp Under Foot has been making faithful replicas of vintage Big Muffs, and his own unique versions, for several years now. As The Big Muff Page readers know, we have jammed on several of his custom creations. Matt at SUF has been making a replica of a '1976 BMP circuit for several years. Recently J Mascis (of Dinosaur jr) sent his his favorite Ram's Head Big Muff to SUF to have a replica made, and to Matt's surprise, he found it was essentially the same circuit as his '76. J was happy with the replica and ordered several more. Matt's new pedal, simply called the Pi, is similar to the '76 circuit, but features slightly more low end. It's also one of the coolest looking pedals in the SUF line.
• P19 FUZZ - NEW PEDAL FROM SKREDDY PEDALS - Another of my favorite Muff makers is Skreddy Pedals. Marc at Skreddy has been making his own hand made versions of the BMP circuit, and other unique effect pedals, for many years. In fact, one of my first boutique Big Muffs was the Skreddy Pink Flesh. A few of my other favorites are the Mayo and the Pig Mine. Marc has recently retired the popular Pig Mine pedal from his line and replaced it with the new P19 Fuzz (look at it just right and you will see "pig"). Adressing some of the suggestions from Pig Mine owners, Marc has made a lower noise, slightly lower gain circuit, somewhat inspired by the Cornish P-1 and P-2 customized Big Muffs. One of these is on the way to The Big Muff Page. I always look forward to new Skreddy releases, so expect a review in the coming months.
---
November 2011
• In September Electro-Harmonix president Mike Matthews did an interview on internet radio station www.livefromrocknrollranch.com. At the very end of the interview DJ Pieter Holland asked Mike what was in store for the future of Electro-Harmonix. Mike then went into talking about the some of the Big Muff versions and ended saying he was "thinking about bringing out a more advanced model with some additional features"! Mike was talking about an advanced Bass Big Muff. I will post more news on this as it becomes available.
• In the Big Muff Users section I have added few pix of Jack White's pedal board from earlier this year when he toured with rockabilly legend, Wanda Jackson. Jack is now using a Tone Wicker Big Muff. He produced, played on, and toured with Wanda for her new album, The Party Ain't Over (Third Man records/Nonesuch). EHX president Mike Matthews sent one to Jack some time ago, but this is the first time it has appeared on his pedal board.
---
August 2011
---
• The J Mascis interview arrives. I have been wanting to interview the Dinosaur jr frontman and Big Muff collector for many years, and J was kind enough to take time out of his busy schedule recently to talk to The Big Muff Page. Here is the full article on J, his Big Muff collection, Dinosaur jr gear, his new solo record, and the new Fuzz Munchkin pedal from Tym Guitars, a replica of his favorite Ram's Head Big Muff. There are also pix of some of J's rare Big Muff pedals from his huge collection.
---
July 2011
• Stomp Under Foot is auctioning a very special 1973 Classic Series Ram's Head "Brick" Muff with the one of a kind Pink Floyd/Gerald Scarfe graphics that I applied. It is up on Ebay now, HERE. Gary was a David Gilmour/Pink Floyd fan, played in a Floyd tribute band, and an all-around great guy. He was diagnosed with a rare form of lung cancer and was told he had only months to live. Sadly, Gary passed at the young age of 45 on Sunday, February 27, 2010. Gary is survived by his wife and their two children. All proceeds of the sale will go to the family of Gary Halloran. Here is an article on Gary and a review of the SUF 73 Big Muff replica.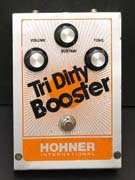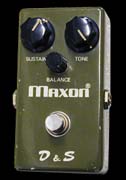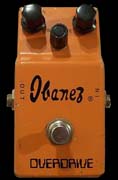 •I expanded the Big Muff Clones section to include the Ibanez/Maxon modified Big Muffs and the Hohner Tri Dirty Booster.
•Added V1 and V2 Big Muff pcb layouts to The Big Muff Circuit section.
•J Mascis' of Dinosaur Jr is a huge Big Muff user and collector. J's favorite Big Muff is a V2 "Ram's Head" model, which according to him sounds very different from all his other Big Muffs. Tym Guitars of Australia, who have worked on and repaired J's Big Muffs, are making an exact replica of J's V2. The hand made pedal is called the Fuzz Munchkin, with graphics by J Mascis. It will be made in a limited run of 300. Thanks to Tim for the photos.
---
VISIT MY SWORDS, KNIVES and FANTASY ART WEBSITE
VISIT MY SWORDS, KNIVES and FANTASY ART WEBSITE
---
June 2011
• Schematic added to the V2 section for the "47" Ram's Head, one of the earliest Ram's Head circuits in the V2 Big Muff enclosure, circa 1973. Several people have sent me photos of their identical 47 Ram's Heads, so named because of the .47µF, .047µF, and 470pF caps, and 470k resistors used in the circuit.
---
April 2011
• More information on how the Big Muff circuit works has been added to the Big Muff Circuit section. This time around I have focused on a few key components that have the most affect on the tone.
• The David Gilmour Ram's Head Big Muff section has been updated and expanded with additional information. Thanks to Pete Cornish, Bjorn Riis, and John Roscoe for assistance and thoughts.
• Stomp Under Foot has announced that another replica of a Big Muff from my collection will be added to the Classic Fuzz pedals line. This one is an early 1970s Triangle, one of the few that I have found where EHX actually repeated an exact schematic in production. This is slightly different from what you typically think a Triangle sounds like. Only five will be made.
• Due to many emails I recieve on the subject, I have added a section for Replacement Big Muff parts, and where they may be found. This covers switches, pots, knobs, jacks, and screws.
---
February 2011
• A V1 Triangle Big Muff circuit guide has been added to the Big Muff Circuit section • Clips were scattered around my website, but I never posted a full review of my Stomp Under Foot '73 Ram's Head (the Brick Muff). Many have asked, so a review and clips are now posted in the Vintage Muff Clones and Muff Inspired Pedals section • Another mystery solved. It was a bit foggy in the past, but after finding mutiple examples, I can confirm there was a tone bypass V3 Big Muff - no, not a V6 circuit, but an actual V3 circuit board with the tone bypass switch, graphics, and non aligned pots. It appears the rumor that the V3 never actually stopped production when the V4/V5 op-amp versions werre made was true. Pix of a few examples are in the V3 section.
• Due to numerous emails asking "which Big Muff should I buy, for such and such Gilmour tone", I added my recomendations for different Big Muff choices HERE
---
January 2011
•Happy New Year!
•New circuit pix have been added to the V1, V2, and V3 section. Pix include a photo from ebay of one of the last V1 BMPs with "reactor tower" knobs seen on the early V2 BMPs, and a few photos of V3 circuits with "tropical fish" tone capacitors taken by my friends on the UK Stompboxes forum. There are also a few new pix of second edition V1s with unmarked green caps, electrolytic caps, and other non standard components, previously thought to be after market replacements. It now appears these are actual production V1s.
•In an effort to reduce email questions about the subject, I have expanded the article on the Sustain Punch Creamy Dreamer and moved a portion of it into the Russian Big Muff section. The Creamy Dreamer was a short lived boutique Big Muff, based on the Russian Big Muff, that was sold from around 1998-2000. It was created to reproduce some of the Smashing Pumpkins guitar tones, and was controversially promoted as being endorsed and used by the Pumpkins, which apparently it never was. There still seems to be much interest in this pedal, so this is all the information I have about it. For info about the real Smashing Pumpkins Muff, which was late 70's vintage Big Muff Pi, see this article.
•The website has been optimized again and split into more pages so they load faster.
---
December 2010
•The V4 and V5 Op Amp Big Muffs section has been cleaned up and reorganized with some new photos of each model. Enough information has come to light in the past few years to confirm for me that these two versions were likely made simultaneously starting in 1978. The V4 on/off switch version seems to have been phased out in 1978 or 1979 and the tone bypass version remained until around 1981. The section is arranged so the four circuit types used are pictured in the order they were released. Three of the four pcbs used can be found on both models.
•A Muff and Fuzz Timeline has been added here. This is a list of all the market release dates for Electro-Harmonix Big Muff and related Muff pedals, which also includes most of the major fuzz pedal release dates from the mid sixties to the mid seventies, to put everything in context.
•New Civil War Big Muff Youtube added celebrating this early Russian made Big Muff.
---
November 2010
•Review and Youtube demo added for the TopTone DG-2 pedal, which is based on the Cornish G-2 pedal, on of David Gilmour's favored pedals on his last tour. Dave Kilminster is using this pedal for most of the Gilmour solos he plays on Roger Waters' The Wall show, touring the US now.
•You may have noticed the top menu directory has been expanded to include other versions of the Big Muff. Due to increasing interest in info about the Deluxe Big Muff, vintage Little Big Muf, Muff Fuzz, and others, I have decided to add more sections. These new pages will be completed over the course of 2011.
•The Big Muff made the cover of Premier Guitar magazine this month. Great interview with EXH founder Mike Matthews inside and a review of the Freeze pedal. A custom "Pedal Issue" Big Muff was created with special graphic designs specifically for the cover photo shoot. Photos of the customized Big Muff are in the V9 section. Several of this cover version Big Muff were made and Mike and the crew at EHX were gracious enough to send me one of these rare pedals.
•RAM'S HEAD BIG MUFF SELLS FOR $2247 on ebay ! - V2 Big Muffs have typically traded for $400-600 on ebay.com in the past few years, but in October a nice example of a V2 Big Muff with reactor tower knobs and 1973 pots sold for a whopping $2247. That's over double the highest price that V1 Triangle Big Muffs have traded for. Other than the fact that the V2 had some .47uf capacitors, which are not typical, there did not seem to be anything special to warrant such a high price, so the buyer must have really wanted it!
•New photos added of a vintage "reverse logo" V6 Big Muff to the V6 section, with gut shots. Another perf board first edition V1 Big Muff has been added to the V1 section, with gut shots.
•New pix added for other color variations of the vintage Civil War Big Muff and a new youtube for the CW Muff, and AnalogMan Sunface BC109 added.
---
October 2010
• I have posted my review of the new Germanium 4 Big Muff in the Modern USA Big Muffs section. Even though this is not a traditional Big Muff at all, I like it.
• Vintage 1974 EHX ad added to the V2 section, showing the "reactor tower" knobs used on several EHX products, most with the word OFF missing from the graphics. This helps date all EHX pedals made with these knobs. They only seem to have been used in 1973 and 1974.
---
September 2010
• Some information about vintage knobs and those numerous '66 pots has been clarified in the the V1 and V2 sections. More pix of different circuits and knobs have also been added to these sections, including another Violet "Ram's Head" Big Muff. I was finally able to try out a real vintage Violet that has the actual component values of the common Violet BMP schematic. It sounds very similar to the Pete Cornish P-1, which is reportedly a high end replica of one of David Gilmour's favorite Ram's Head Big Muffs, so likely David's Big Muff had very similar component values.
• A scan of the receipt and check for the Triangle Big Muff that Carlos Santana purchased in 1971 has been added to the V1 section. Thanks go to to Mr. Matthews!
---
August 2010
• The V2 Ram's Head Big Muff section was due for an overhaul, so it has been revised in places in light of new info dates supplied by other collectors and some new discoveries I have made from recent V2 trades. To simplify identification I have named three "editions" based the ON and OFF labeling and ink colors used.
• The V4 and V5 Op Amp Big Muffs are no longer made by EHX, but Stomp Under Foot and Euthymia both make excellent replicas of these unique sounding Muffs. See my review and sound clips of each in the Vintage Muff Clones and Muff Inspired Pedals section, and get your fix of Smashing Pumpkins tones.
• Check out the Big Muffs currently listed on ebay here, the best place to find vintage and new Big Muffs for sale.
---
July 2010
• The Germanium 4 Big Muff is now shipping from EHX.
• Instruction for how to disassemble a vintage Big muff have been added to the site here.
• PCB pix and PCB numbers added to the Russian Big Muff section section showing the three different PCB's used for Green Russian Muffs. Some other PCB pix added to the Russian Big Muff section section as well.
• Several people have asked what the Big Muff block font is. It is a modified version of ITC Pioneer.
---
June 2010
• Information on the new Germanium 4 Big Muff is now in the Modern USA Big Muff section. Some interesting news is that Bob Myer, the original Big Muff circuit designer, is also one of the designers responsible for this version, along with Daniel Shin, who headed the project. Thanks go to Bob and Daniel for their time answering questions about this interesting new addition to the Big Muff line. Hopefully sound clips will be coming soon. Approximate availability date is late June.
• Added some clips in the Transistors and Other Components section comparing one of my favorite 1973 Big Muffs with an exact clone made using modern components made by Matt at Stomp Under Foot. Is there mojo in the old components that make it sound better than the new? Listen and judge for yourself.
• Sound clips and a review of the Pete Cornish P-1 pedal have been added to the Vintage Muff Clones and Muff Inspired Pedals section. The P-1 was based on several of David Gilmour's (of Pink Floyd) vintage Big Muffs that were sent to Pete from David in the mid 1970s to make an improved and road worthy Muff for David to tour with. It sounds very close to some to the best V2 Big Muffs I have played.
---
May 2010
• Raw V2 Ram's Head, "Violet" Ram's Head, and Civil War sound clips added to the Sound Clips page. Clips comparing the V2 to Pete Conrnish P-2, and Sovtek Civil War Muff added to the Pete Cornish P-2 section. Review of the Pete cornish P-1 Ram's Head Big Muff clone and sound clips added to the Vintage Muff Clones and Muff Inspired Pedals section, as well as info from Pete Cornish about how the P-1 came about, and other info about David Gilmour's V2 Big Muffs added to the V2 section. Due to the numerous questions I get about the Big Muff circuit I have added some easy to read illustrations about the circuit and it's components to the The Big Muff Circuit Guide.
• Sound clips and review of the Pete Cornish G-2 germanium Muff added to the Vintage Muff Clones and Muff Inspired Pedals section. New pcb pix added to the V1 and V2 sections. Info on reading Stackple pot codes added to the Reading Pot Date Codes page.
---
April 2010
• I rearranged the V2 Ram's Head section a bit so the photos are in better order to the realease dates, and updated some of th information regarding dates. I also added photos and circuit trace of a really nice sounding V2 with '73 pots.
• A dded clips to the Sound Clips page comparing the V8 Russian Big Muff (now discontinued) to the Bass Big Muff to illustrate how similar they are for guitar.
• Added more pix of J Mascis favorite Ram's Head Big Muff, courtesy of Tym Guitars. Tim at Tym is working on making a clone of this Big Muff for J. Tym Guitars also makes several vintage Big muff clones, as well as other vintage pedals clones, all with some of the coolest pedal art I have ever seen. They can be found in the pedal section on their website.
THANK YOU! - Thanks to everyone who has emailed this year about how much they enjoy the website, and thanks to all who have contributed so far this year.
---
March 2010
• I added more pix and info on Jack White's Big Muffs in the Big Muff Users section. Thanks to Mike at Analog Man for the pix and info regarding the Muffs he has worked on for Jack. If you ever wondered about the odd sized enclosures for Jack's Muffs, they are not stock. Analog Man reboxes them in sturdier enclosures because Jack crushes the stock EHX boxes. Also, Jack currently uses the V9 reissue Big Muffs. Stock, except for the Analog Man box.
• Soundclips for every Muff version are now complete for wet solo lead tones on the Sound Clips page. Raw Big Muff clips still in the works, hopefully I'll start posting them soon. I added updates to the "Civil War" and green Russian Big Muff circuit information. Added new photos to the Russian Big Muff section , and V1, V2, V3 Muffs on the Vintage USA Big Muff section, and the V9 in the Modern USA Big Muff section . More V1 and V2 alternate knob pix added to the Vintage USA Big Muff section.
• I added links to Dana's Big Muff schematics, articles, and mods website. He has schematics for all the vintage USA and Russian made Big Muffs, as well as instructions for many mods.
---
February 2010
• Updates to the Hendrix and Sovtek Big Muff sections with new info and history supplied by EHX founder and owner Mike Matthews himself. New info added to the V1 section from THE man behind the original Big Muff, Bob Myer, inventor of the Muff circuit (thanks Bob!). New info added to the Bass Big Muff section, including some information about the design of the Bass Big Muff graciously supplied by E-H designer John Pisani. Russian Big Muff battery door pix added to the Russian Muff section. Lots of soundclips added to the Big Muff Sound Clips section, with many more to come.
• Soundclips and gear reviews of some vintage Muff clones by Stomp Under Foot, Blackout Effectors, and Pete Cornish have been added to the Vintage Muff Clones and Muff Inspired Pedals section.
---
January 2010
• Happy New Year! I added some details and regarding different foot switches used on the Russian Muffs, pix of vintage USA muff knobs, noted which Muffs were true bypass and which were not, and some info about power supplies. Mike Matthews clarified a confusing details about some of the last Russian Big Muffs made. The reason the foot switches were changed from the large Russian switches to the small USA/Mexican made switch was due to the Russian foot switch factory going out of business. Mike also shed some light on why the Russian pedals were discontinued.
• I added some new V1 and V2 circuit pix, showing the wide variety of values used. I revised some details about the V1 and V2 "editions", including the "violet" Ram's Head edition. I think this was likely not a real factory schematic change, but just a color change. There are many violet V2 Muffs with varying component values, just like any other V2 Muff, though I have seen a few that have values close to the schematic. I added some pix of those different circuits.
• NEW BIG MUFF IN THE WORKS!!! Mike Matthews spilled the beans about a soon to be released germanium based Big Muff to Guitar Player magazine at the 2010 Namm show. Mike called this the Germanium 4 Big Muff. I'll post news about it as info becomes available. Mike Matthews and Bob Myer also confirmed that the first production Big Muffs were made in 1969, and Mike lays the blame for the 1971 date popularly used on himself.
---
December 2009 - Mini interview with Big Muff/Deluxe Big Muff op amp circuit designer Howard Davis added to the Vintage USA Big Muff section.
Was there a TONE BYPASS V3? I have seen three examples of V3 transistor "3003" Big Muffs with tone bypass switches, and both "AC" and "TONE BYPASS" printed on the face. Is this a legitimate version, or are these just Muffs cobbled together from different versions? I am trying to determine the answer to that mystery. Howard Davis, Manager of Analog Circuit Design for E-H from 1976-1981, thinks the tone bypass may have already been in use by E-H before he designed his op-map V4 Big Muff. If that is the case, why did E-H drop the bypass for the V4, then add it again for the V5 around a year later? Stay tuned, and if anyone can shed any light on this one, or if you have one, let me know.
---
November 2009 - The mystery is solved! The first Big Muff was manufactured and sold by 1970, not 1971. This means Jimi Hendrix could have used one before he died in the Foxey Lady studios, just as Mike Matthews has always claimed. The actual first production year was confusing because of conflicting dates stated in various websites and books, most stating 1971. Thanks to all the V1 owners who chimed in verifying the year they bought theirs as 1970, and thanks to Carlos for his 1970 Manny's Music reciept for his V1 Triangle, pictured in the Vintage USA Big Muff section .
The Siamese Dream Muff - Another mystery has been clarified - Billy Corgan's huge sound on the Smashing Pumpkins' Siamese Dream appears to have been created with the much maligned V4 op-amp Big Muff, or possibly a modded V3, though NOT a V1 Muff or creamy dreamer modded Muff as popularly believed. Billy has finally cleared this up and I have photos of his actual Big Muff with his typical settings in this article. I also added some Pumpkins sound clips of that version.
I have also verified that E-H did ship some early V9 reissue Muffs with old style V3 knobs as late as 2001. Later V9 Muffs have the common flat topped, hockey puck knobs. Photos of the knobs used are in the Modern USA Big Muff section
---
October 2009 - The Big Muff Page was getting too large for one page so I have split it up into three sections - one for vintage USA Muffs, one for modern USA Muffs, and one for Russian made Sovtek Big Muffs.
Sovtek Big Muffs are Discontinued - It appears the rumor is true. The Sovtek Muffs have not been available for quite some time in Europe and the are now no longer being offered by EHX in the USA. Many other Russian made EXH pedals are bing discontinued as well. I have seen no official reason from EHX yet. Many dealers still stock them, but prices are sure to go up in coming years.
---
September 2009 - I added some soundclips to the Muff Inspired Pedals and Clones page. Marc Skreddy was kind enough to send me a prototype of his new Pig Mine pedal to test while I was waiting on the one I ordered from him to be made. Some of my demos can be found on the Skreddy Pedals website.